Fearless Advocates, Trusted Leaders: 2019 Centennial Medals
The achievements of the 2019 Centennial medalists have dramatically impacted society.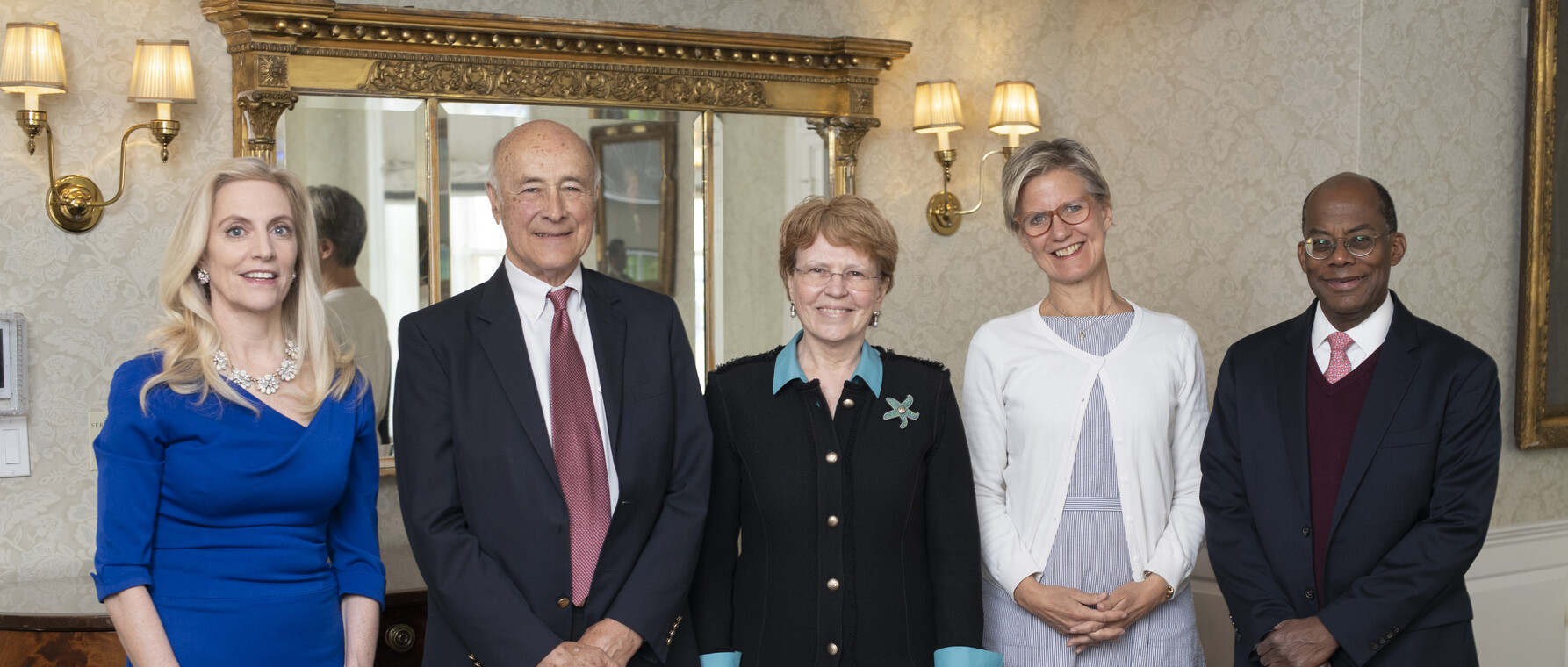 On May 29, 2019, the Graduate School of Arts and Sciences (GSAS) presented the Centennial Medal to five distinguished alumni who have made fundamental and lasting contributions to knowledge, to their disciplines, to their colleagues, and to society.
The Centennial Medal was first awarded in 1989 on the 100th anniversary of the School's founding. It is the highest honor that GSAS bestows.
The 2019 Centennial Medal recipients are:
Carroll Bogert
Image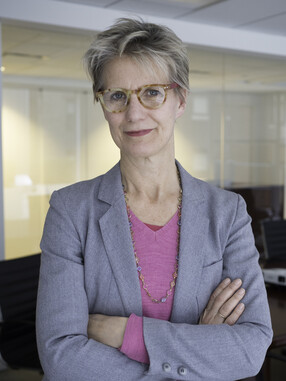 As an international journalist and human rights advocate, Carroll Bogert, AB '83, AM '86, has faced head-on some of the most urgent social issues of our time. She completed her master's in the Regional Studies–East Asia program with Roderick MacFarquhar, who was director of the Fairbank Center for Chinese Studies and a leading scholar of the Cultural Revolution in China. Bogert went on to work for The Washington Post and Newsweek in Asia, rising to the rank of bureau chief and acting foreign editor. She contributed eyewitness reporting on the student-led Tiananmen Square protests and some of the most fateful moments in the Cold War in Moscow.
Following her career in international journalism, Bogert spent 18 years at Human Rights Watch, one of the world's leading human rights organizations. She now serves as president of The Marshall Project, a nonpartisan news organization dedicated to reporting on civil rights issues in the US criminal justice system. Launched in 2015, The Marshall Project is the youngest news organization ever to win a Pulitzer Prize.
The writer George Scialabba, AB '69, a friend of Bogert's from the Fairbank Center, admires her approach to global human rights. "What struck me," Scialabba says, "was her combination of realism and idealism, her lucid appreciation of the limits of what could be done and her unflagging enthusiasm for doing it. She was never starry-eyed and never jaded. And The Marshall Project's work speaks for itself: It's some of the most valuable journalism being produced in America."
Lael Brainard
Image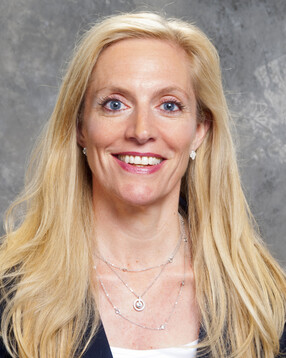 A world expert in international trade, Lael Brainard, PhD '89, has worked in the highest levels of the federal government for 20 years—and counting. She has been a trusted advisor to two presidents, a first responder in re-regulating markets after the 2008 financial crisis, and a shrewd observer of global systems, widely regarded as being ahead of the curve in recognizing changes in financial markets.
Brainard was President Bill Clinton's sherpa, or top liaison, to the Group of Eight industrial nations; under President Barack Obama, she served as Under Secretary of the Treasury for International Affairs. At the time, Brainard was the highest-ranking woman in the history of the Treasury Department. In 2014, she was nominated to the Board of Governors of the Federal Reserve. She has been active in improving the Fed's implementation of the Community Reinvestment Act, which provides support to low- and moderate-income communities.
Prior to her career in public policy, Brainard was on the faculty of the MIT Sloan School of Management and spent eight years at the Brookings Institution. David Cutler, Otto Eckstein Professor of Applied Economics, appreciates that Brainard made real-world concerns a focus of her work. "Lael was well ahead of her time in thinking about structural barriers to employment and good jobs," Cutler says. "She brings a combination of economic knowledge and human compassion to difficult economic questions."
Roger Ferguson
Image
With an impeccable record of leadership across the public and private sectors, Roger Ferguson, AB '73, JD '79, PhD '81, has proven himself to be a champion of the financial well-being of others. He was appointed to the Board of Governors of the Federal Reserve in 1997 and went on to become the first African American to serve as vice chair. On September 11th, he was the highest-ranking Fed official in Washington; he succeeded in keeping financial systems stable during a time of unprecedented challenge and uncertainty for the nation and the world.
Today, Ferguson is president and chief executive officer of TIAA, the leading provider of retirement services in the academic, research, medical, and cultural fields. He has also served as a member of Harvard's Board of Overseers, the University's second-highest governing body, and he led the Board as president from 2008 to 2009.
Drew Faust, president emerita and Arthur Kingsley Porter University Professor, appreciates that Ferguson, as a GSAS alumnus, understood the intellectual mission of the University as well as the mission of the professional Schools. Reflecting on his service as an overseer, Faust says, "He always was a calm and thoughtful and rigorously analytic presence. He cared deeply about students and their experience and made that a focus of much of his attention. He was also fun to be around; he has a great sense of humor, and his dedication to Harvard was evident and admirable."
Jane Lubchenco
Image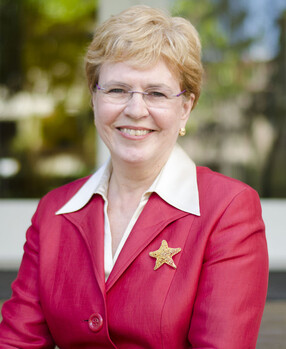 Jane Lubchenco, PhD '75, is a force of—and for—nature. A world-renowned marine ecologist and founding figure in the science of environmental sustainability, she has advanced the study of coastal ecosystems, improved the management of fisheries and ocean resources, and shaped organizations and policies that serve nature and society alike. For decades, she has been outspoken about the threat of climate change and the responsibility that all scientists have to put their research to use for the good of the planet.
Lubchenco is University Distinguished Professor and Marine Studies Advisor to the University President at Oregon State University and has served as president of the International Council for Science, the Ecological Society of America, and the American Association for the Advancement of Science. From 2009 to 2013, under President Barack Obama, Lubchenco headed the National Oceanic and Atmospheric Administration (NOAA), a $4.7 billion federal agency responsible for conserving and managing coastal and marine ecosystems and resources.
At the time, John Holdren, Teresa and John Heinz Professor of Environmental Policy at Harvard Kennedy School, was assistant to the president for science and technology and director of the White House Office of Science and Technology Policy. "The fact that Jane is universally recognized as a brilliant scientist as well as a consummate leader made her a highly effective NOAA administrator in a very challenging period," Holdren says. "She is energetic, organized, deeply committed to advancing science and its applications to improve the human condition, and completely unflappable."
Joseph Nye
Image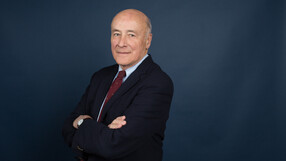 Joseph Nye, PhD '64, University Distinguished Service Professor Emeritus, is a world-renowned authority on foreign policy and power. Through decades of leadership—as associate dean for international affairs, director of the Center for International Affairs, and dean of Harvard Kennedy School—he has fundamentally shaped how Harvard educates students and world leaders.
The author of 14 academic books, Nye famously formulated and popularized the concept of "soft power," recognizing that a country's power resides not merely in its ability to coerce, using the hard power of its military or economic influence, but also in its ability to persuade, through the attractiveness of its cultures and ideals to the rest of the world. Nye put his scholarship into practice through years of high-level government service in the Carter and Clinton administrations. He served as chair of the National Intelligence Council, among many other leadership positions, and received Distinguished Service medals from the Department of State, the Department of Defense, and the Intelligence Community.
David Gergen, Public Service Professor of Public Leadership, cites Nye as his principal reason for coming to Harvard Kennedy School decades ago. He observes, "Joe Nye has been a pillar of strength at Harvard for 55 years, earning universal praise for his scholarship, his influence upon international relations, his leadership of University institutions, his service to country, and critically, his high standards of ethics and integrity. He has become a living embodiment of all that Harvard aspires to be."
Photo by Tony Rinaldo
Harvard Griffin GSAS Newsletter and Podcast
Get the Latest Updates
Join Our Newsletter
A monthly round up of Harvard Griffin GSAS news
Connect with us