Dean Emma Dench is the McLean Professor of Ancient and Modern History and of the Classics. A Roman historian and classicist who holds appointments in the Departments of the Classics and of History, Dench joined Harvard in 2007. While at Harvard, she earned a Harvard College Professorship in recognition of "outstanding contributions to undergraduate teaching, mentoring, and advising," a Marquand Award for Excellent Advising and Counseling, and an Everett Mendelsohn Excellence in Mentoring Award for her mentorship of graduate students. 
Image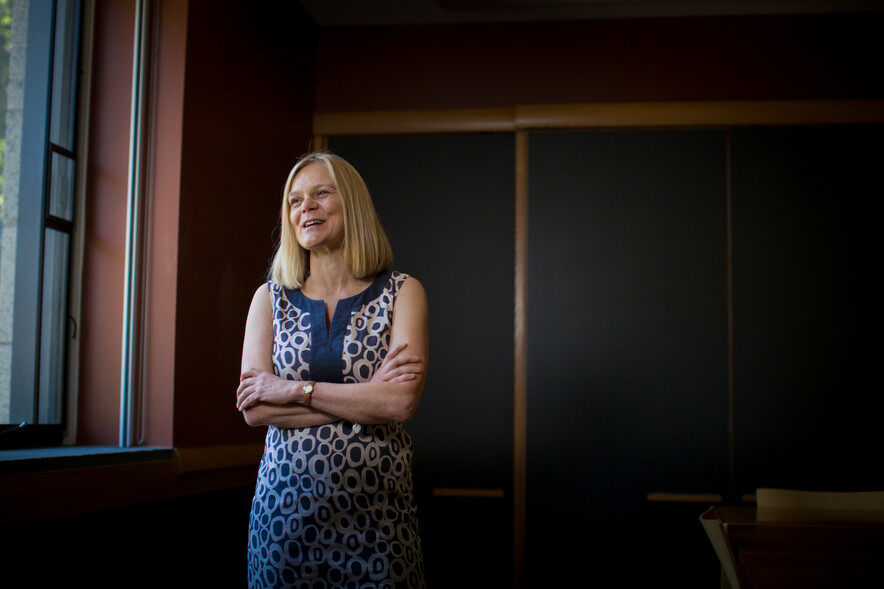 As dean, Dench spearheaded an effort to enhance the advising experience of graduate students by launching The Advising Project. The ongoing project has identified and communicated best practices in advising and has offered mentoring training to faculty and mentoring-up training to students. 
Dench's most recent book, Empire and Political Cultures in the Roman World, reviews a hundred years of scholarship to identify how empire transformed the Roman world and advances a new theory of how the empire worked and was experienced. She is also the author of From Barbarians to New Men: Greek, Roman, and Modern Perceptions of Peoples from the Central Apennines and Romulus' Asylum: Roman Identities from the Age of Alexander to the Age of Hadrian. She has published articles and reviews on many aspects of classical antiquity, including pre-Roman and Roman Italy and race. 
Dench was born in York, grew up near Stratford-Upon-Avon, and studied at Wadham College, Oxford (BA Hons Literae Humaniores) and at St. Hugh's College, Oxford (DPhil in Ancient History). She previously taught classics and ancient history at Birkbeck College, University of London, and held the Craven Fellowship at the University of Oxford. She also served as a Rome Scholar, a Hugh Last Fellow at the British School of Rome, a Cotton Fellow, a Member of the School of Historical Studies at the Institute for Advanced Study, Princeton, a Visiting Professor of the Classics and of History at Harvard, a Loeb Classical Library Foundation Fellow, and a Visiting Professor of Business Administration at Harvard Business School. 
Deans of the Harvard Kenneth C. Griffin Graduate School of Arts and Sciences
2018– Present Emma Dench, McLean Professor of Ancient and Modern History and of the Classics 
2012–2018 Xiao-Li Meng, PhD 1990, Statistics, Whipple V. N. Jones Professor of Statistics 
2008–2012 Allan M. Brandt, Professor of the History of Science and the Amalie Moses Kass Professor of the History of Medicine 
2005–2008 Theda Skocpol, PhD 1975, Sociology, Victor S. Thomas Professor of Government and Sociology 
2000–2005 Peter T. Ellison, PhD 1983, Anthropology, John Cowles Professor of Anthropology  
1992–2000 Christoph Wolff, William Powell Mason Professor of Music 
1989–1992 Brendan A. Maher, Edward C. Henderson Professor of the Psychology of Personality 
1985–1989 Sally Falk Moore, Victor S. Thomas Professor of Anthropology 
1977–1984 Edward Louis Keenan, PhD 1965, Arthur Kingsley Porter Professor of Medieval Latin 
1973–1976 Burton Spencer Dreben, AM 1955, Professor of Philosophy  
1971–1972 Richard Victor Jones, Robert L. Wallace Professor of Applied Physics 
1955–1971 John Peterson Elder, Associate Professor of Greek and Latin 
1949–1955 Francis Millet Rogers, Smith Professor of the Language and Literature of Portugal 
1946–1949 Payson Sibley Wild, PhD 1931, Government, Professor of Government  
1943–1946 Howard Mumford Jones, Abbott Lawrence Lowell Professor of Humanities 
1940–1943 Arthur Becket Lamb, PhD 1904, Physical Chemistry, Irving Professor Chemistry  
1925–1939 George Henry Chase, John E. Hudson Professor of Archaeology 
1924–1925 John Livingston Lowes, PhD 1905, English, Francis Lee Higginson Professor of English Literature 
1908–1924 Charles Homer Haskins, Henry Charles Lea Professor of Medieval History 
1895–1908 John Henry Wright, Professor of Greek 
1872–1895 James Mills Peirce, Perkins Professor of Astronomy and Mathematics