Find Your Center at Lehman Hall! Grab a cup of coffee at Café Gato Rojo or meet a friend for lunch or dinner in the Commons at Lehman Hall. Head to the computer lab to print a paper. Play ping-pong, billiards, and board games or watch TV in the game room. You are welcome to hang out in any room if it isn't reserved (check the iPads by the doors). Attend a Harvard Griffin GSAS Student Council open meeting or nurture a nonacademic interest at a student group event. You can also connect with Harvard Griffin GSAS staff who can help you navigate the many resources available to support you on your academic journey.
Image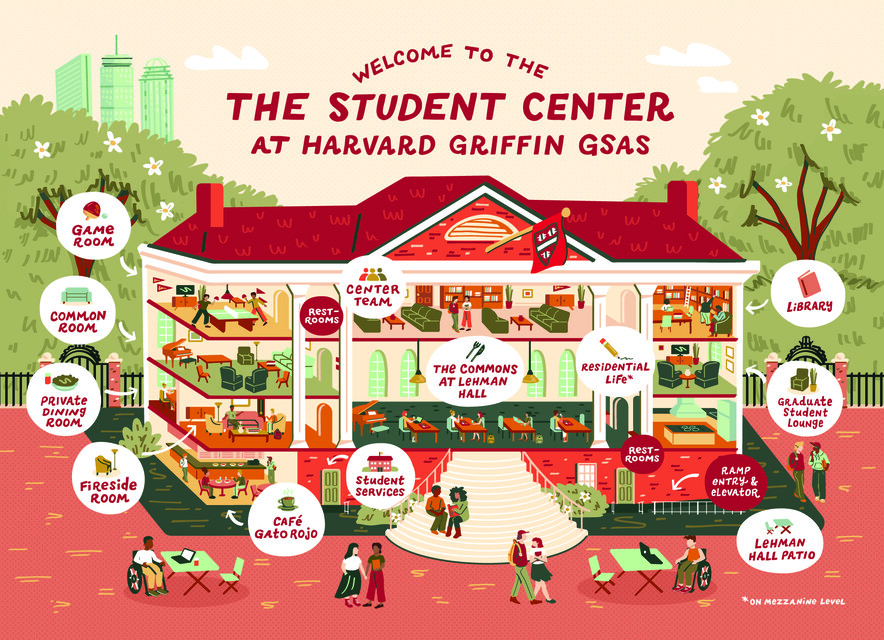 Want to reserve a space? Book a room through FAS RoomBook or contact the Student Center at Harvard Griffin GSAS at stucenter@fas.harvard.edu. Harvard Griffin GSAS student leaders can also book space in Lehman Hall as part of the Engage event submission process.
Accessibility 
The Student Center at Harvard Griffin GSAS welcomes individuals with disabilities to participate in its programs and activities. If you would like to request accommodations for events, or have questions, please contact stucenter@fas.harvard.edu or 614-495-2255 in advance of the event.
Image