Taking Mentorship Very Seriously
Mendelsohn Awards 2021 Winners: Hannah Marcus
For Hannah Marcus, working with graduate students is one of most exhilarating and fulfilling parts of her job.
Image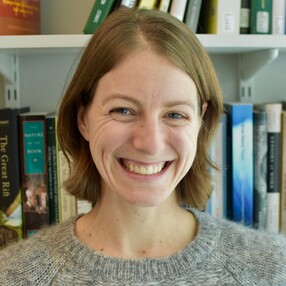 "I'm so honored and touched," said Marcus of her Mendelsohn Award nomination. "The students here are brilliant, and we work among exceptionally talented company."
During this past tumultuous year, Marcus realized that the community she and her students had built around physical space no longer existed. She decided to focus on creating virtual spaces to support one another. Among other initiatives, she developed an intensive syllabus design workshop, used funding from donors to organize a workshop to digitize archival sources for students who could no longer travel to archives, and started an online community around the shared experience of writing a dissertation.
"I reached out to all of the graduate students I worked with—at Harvard and beyond—and asked if they'd like to get a group together to talk about our writing," explained Marcus. "I invited them to bring along other PhD students just so we could all start connecting about our current processes and how we plan to continue our work now that life has shifted so dramatically."
The members of this writing group have met on Zoom nearly every Friday for over a year. They named themselves the Historians of Hope, drawing on a line in an essay penned by historian Natalie Zemon Davis about how her career trajectory changed after the State Department seized her passport in response to her political activism. They have developed into an interconnected online community on Slack as well, where Marcus and students come together to support each other in their intellectual work, share their goals, and hold each other accountable.
"Hannah has gathered, guided, and fostered this community of advanced graduate students in the research and writing stages of their degree," said Hannah Kaemmer, a PhD student studying architectural history and one of Marcus's student nominators. "It isn't something she had to do, but she did it because she knew it would be good for all of us. Historians of Hope has been the single most consistent and productive space I've had within the last year."
Kaemmer and her fellow nominators—including GSAS students Ashley Gonik, Shireen Hamza, Sarah Koval, Kiran Kumbhar, and Michelle LaBonte—see the Mendelsohn Awards as a way to publicly recognize gratitude for Marcus that they all share.
"We can give back a little for all of the work that she does for us all the time," said Kaemmer. "We want to remind her that she's appreciated."
For Marcus, she recognizes the benefit of working in a supportive department committed to mentorship: Everett Mendelsohn himself was in history of science, as are winners from 2020 (Victor Seow), 2019 (Gabriela Soto Laveaga), 2018 (David Jones), 2017 (Ahmed Ragab), and many more from years past.
"I'm lucky to be surrounded by faculty members who are incredible mentors—to me and to their students," said Marcus. "I'm part of a community of people who take mentorship very seriously. I'm learning about how I want to mentor students by watching my colleagues—the standard is very high, in a very good way."
Photo courtesy of Hannah Marcus
Harvard Griffin GSAS Newsletter and Podcast
Get the Latest Updates
Join Our Newsletter
A monthly round up of Harvard Griffin GSAS news
Connect with us