Guido Goldman: 2018 Centennial Medal Citation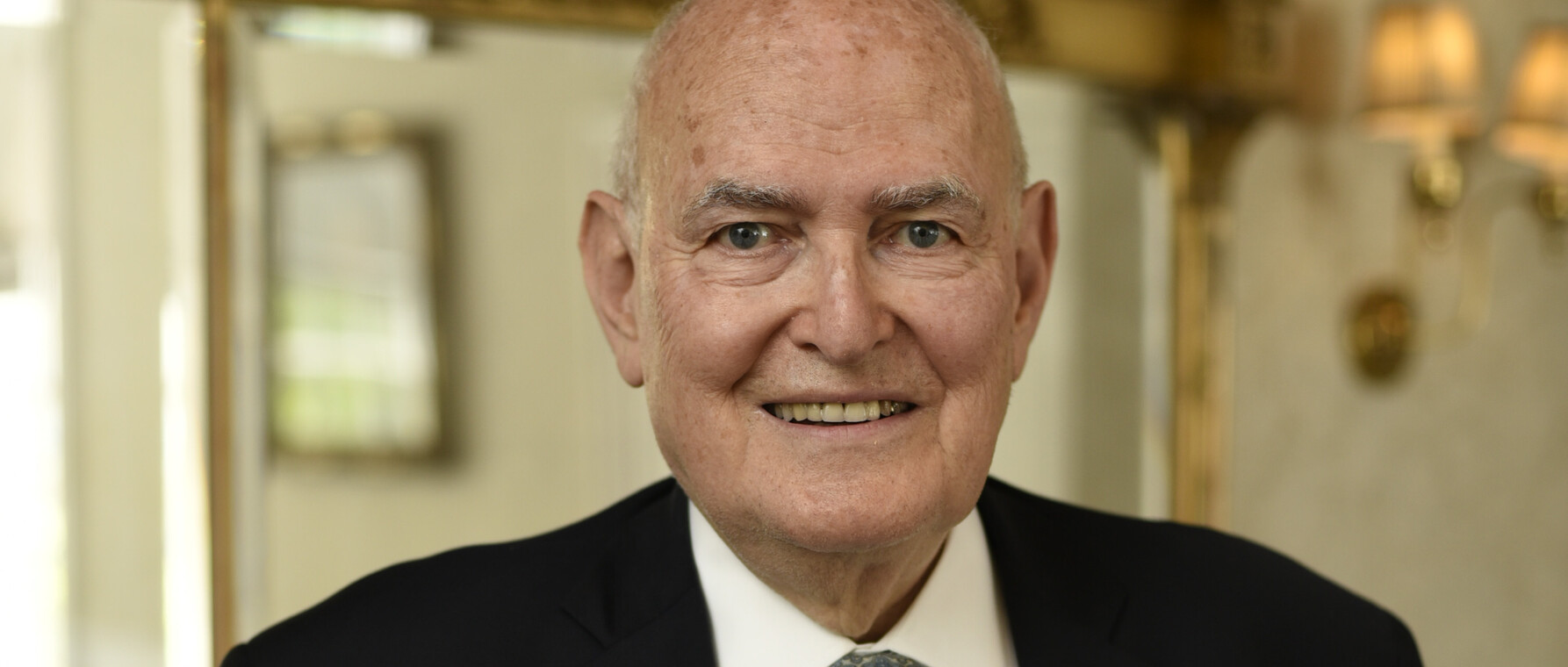 A great friend of GSAS and Harvard. A visionary academic entrepreneur. A brilliant mind, and a modest man. These are a few of the ways in which colleagues describe Guido Goldman, a founder of Harvard's Center for European Studies and an architect of lasting transatlantic partnerships between Germany and the United States. Over the course of his 40-year career at Harvard, he counseled students, faculty, institutions, and governments; he was an active member of the Council on Foreign Relations and other nonprofit organizations, and Henry Kissinger, who served as one of Goldman's dissertation advisors, trusted his advice in matters of state. Goldman's work as an advocate, a fundraiser, and a scholar has fundamentally shaped and expanded our University—and helped build stability and mutual understanding between the US and Europe.
Born in Zurich, Goldman fled the Nazi regime with his family in 1940 and immigrated to the United States, where he enrolled in Harvard College, resided in Winthrop House, and studied with Stanley Hoffmann and Zbigniew Brzezinski, graduating in 1959. He went on to complete his PhD in the Department of Government; his dissertation, on heavy industry and foreign policy in the Weimar Republic, earned him Harvard's Edward M. Chase Prize, awarded for the best essay on a subject relating to the promotion of world peace.
While he was still a graduate student, Goldman helped Kissinger develop the program that would eventually become the Minda de Gunzburg Center for European Studies, the oldest university center devoted to the study of Europe in the United States. When he completed his PhD in 1969, Goldman became the Center's founding director—a role in which he served for 25 years.
Peter Hall, the Krupp Foundation Professor of European Studies, and Henry Rosovsky, the Lewis P. and Linda L. Geyser University Professor, Emeritus, and former dean of the Faculty of Arts and Sciences, hold Goldman's leadership in the highest regard. "It is not an exaggeration to say that, without Guido's work, Harvard's stellar program in European studies would not exist," Hall and Rosovsky say. "He was tireless in his efforts to put European studies at Harvard on a firm footing, and wise in the counsel he offered for how those studies should be pursued. No one has ever traveled more or worked harder in the service of that cause. Without those efforts, Harvard would not enjoy the stature it does as the leading site for European studies in the United States."
Goldman's talents as a fundraiser have been especially transformative. In 1972, he played a leading role in raising a nine-figure gift from the German government in honor of the 25th anniversary of the Marshall Plan, America's program to aid European economies after World War II. This monumental gift created an endowment for European studies at Harvard and established the German Marshall Fund of the United States, an organization that Goldman served for 40 years as founding chairman. He was also instrumental in securing funding for faculty, graduate students, and the arts at Harvard, as well as the gift that named the Minda de Gunzburg Center for European Studies. All these efforts have made Harvard a nerve-center for transatlantic co-operation in the academic sphere.
Charles S. Maier, the Leverett Saltonstall Professor of History, succeeded Goldman as director of the Center. "I admired all his interventions in our collective decision-making," Maier says. "They were probing, judicious, and, to use the word as it should be used, wise. They were also imparted with a great sense of humor. I still chuckle at some of the jokes Guido has told over the years."
Grzegorz Ekiert, the Laurence A. Tisch Professor of Government and current director of the Center, cites Goldman as the reason for Harvard's sustained leadership in this field. "Guido Goldman's contributions are not confined to the past," Ekiert says. "They continue to benefit Harvard faculty and students, as well as relations between the US and Europe, every single day. As a result of his efforts, we are much better positioned to support first-rate research and graduate training on Europe than any other university in the nation."
Karl Kaiser, co-chair of the Center's European Union seminar, shares these sentiments. "Guido Goldman has devoted the overwhelming part of his life, his remarkable intelligence, and his negotiating skills to the service of others and to important causes," Kaiser says. "Harvard University, and the future of transatlantic relations as the core of the democratic world, have been at the forefront of his devotion."
Guido Goldman, for your lifelong commitment to promoting international peace and prosperity, and for your decades of impeccable leadership of the Center for European Studies and service to your alma mater, we are proud to award you the 2018 Centennial Medal.
Read about the 2018 Centennial Medalists
Photo by Tony Rinaldo
Harvard GSAS Newsletter and Podcast
Get the Latest Updates
Join Our Newsletter
Sign up for Research Matters, a monthly round up of GSAS news
Connect with us