A Decades-Long Relationship
Mendelsohn Awards 2021 Winners: Sheila Jasanoff
Jasanoff specializes in science and technology studies (STS), in which she explores the role of science and technology in the law, politics, and policy of modern democracies. Because her area of expertise has no designated PhD track at Harvard, she works with graduate students throughout GSAS: some in Harvard Kennedy School studying science policy, and others from a range of PhD programs who are pursuing a recently created minor in STS.
Image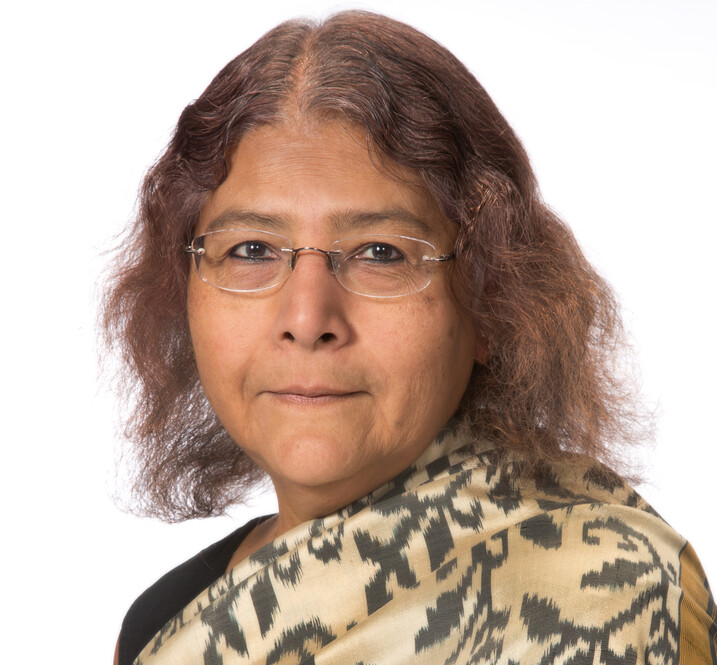 "Advising means an enormous amount to me," says Jasanoff. "What I particularly enjoy about this award is that this recognition shows graduate students banding together across disciplinary lines."
Jasanoff's diverse students not only appreciate her professional interest in helping them discover their academic passions and her personal care for their well-being, but they're also impressed with her proficiency.
"Sheila has created the infrastructure of a department without the traditional resources, while still being an exceptional mentor and teacher," says Hilton Simmett, one of Jasanoff's advisees and a student nominator for her Mendelsohn Award. "She's also an incredibly prolific faculty member who is avidly publishing—sometimes I think she's superhuman."
Because Jasanoff works with students who are pursuing a distinctive field with many possible paths, she recognizes that advising these "crossover artists" is a unique situation.
"The students I work with don't have a ready-made track, so they are unusually creative and adventurous," says Jasanoff. "They are all extremely talented and want to do public-facing work that is often outside of the mainstream."
Because of these innate differences, one of Jasanoff's approaches to advising is to try to discern from each person what the core of their interests are and crystallize that to help them become their own scholar.
For example, Simmett is a public policy PhD student specializing in the STS track. In particular, he is looking at how science and technology get translated into the economics of society in the U.S., India, and Senegal. Simmett and Jasanoff have known each other since he was a junior at Harvard College.
"Graduate advising is a decades-long relationship," says Jasanoff. "I keep in touch with the students I work with, some of whom stay on with me through major projects; you make lifelong connections with people."
She encourages that kind of connection among her advisees as well: Through her influence, Simmett and his peers have created a collaborative of young scholars in STS in the Northeast from Harvard, MIT, Cornell, Brown, Princeton, Yale, and more. Graduate Research in Science and Technology Studies (GRiSTS) held their first conference, "Submerged Futures: Science, Technology, and the Politics of Forgetting," virtually in 2020, with another planned soon.
"GRiSTS is example that graduate studies are a place of innovation, development, and self-renewal," says Jasanoff. "My philosophy is to try to produce people who will meet the world and its challenges every day as if it's a new day."
Photo courtesy of Sheila Jasanoff
Harvard GSAS Newsletter and Podcast
Get the Latest Updates
Join Our Newsletter
Sign up for Research Matters, a monthly round up of GSAS news
Connect with us