A Cooperative Effort
22nd Annual Everett Mendelsohn Excellence in Mentoring Awards Honor Exceptional Faculty
As a Harvard faculty member, Professor of the History of Science, Emeritus, Everett Mendelsohn saw the connection between the student and the teacher—the mentor and the mentee—as an important cooperative effort.
"As I look back at my own career as a teacher at Harvard lo these many years ago, success came only if both were engaged, involved, and respected each other enough to take each other seriously," he said during the 22nd annual Everett Mendelsohn Excellence in Mentoring Awards, hosted by the GSAS Student Council (GSC). "There's something very special that goes into [mentoring] that makes a big difference."
Mendelsohn, a member of the Department of the History of Science for nearly 50 years and an outstanding mentor in his own right, funded the awards more than two decades ago. This year's ceremony, held virtually on Monday, April 12, 2021, offered an opportunity for mentees throughout the Graduate School of Arts and Sciences to show their appreciation for the care, support, and professional direction offered by Harvard's best faculty.
The Mendelsohn Awards are coveted by faculty—in fact, GSAS Dean Emma Dench said in her opening remarks that her own award, won in 2015, is the honor on her resume that she's most proud of.
"Effective advising often hinges on a mentor's ability to pass on knowledge and scholarly guidance, but also a response to each student's uniqueness," said Dean Dench. "Each of these exceptional advisors we honor today know how important their role is, and the students will benefit from these relationships here at GSAS and throughout their whole lives."
Equity, Individualism, and Support
The GSC received a record number of nominations this year—more than 100—especially notable during a year of uncertainty amidst a global pandemic. While each awardee has their own unique approach to mentorship, many echoed an interest in leveling the playing field in academia.
2021 Mendelsohn Award-winner Robin Bernstein, Dillon Professor of American History and professor of African and African American Studies and of Studies of Women, Gender, and Sexuality, teaches a course called "Introduction to Graduate School: Skills and Practices for Scholarly Success" to help break down this power dynamic, particularly for underrepresented groups in academia, such as people of color, first-generation students, LGBT students, and women.
The course empowers graduate students by teaching them the intellectual skills and everyday practices that will enable them to succeed.
"I believe that graduate research is inherently very difficult—what shouldn't be hard is navigating graduate school," says Bernstein. "Whether it's in my mentoring or through my intro course, I try to demystify the process as much as possible for my students and equalize the knowledge they have."
Fellow Mendelsohn-winner Christopher Rycroft, John L. Loeb Associate Professor of Engineering and Applied Sciences, likewise shares a curiosity about how the world works with his students and seeks to point them down the right path for their own breakthroughs.
"Mentoring involves a balance between wanting to direct your mentees and giving them the space to discover things on their own," says Rycroft. "You open the doors for them, and then as time goes on you let them find their own path. Students have told me they appreciate this approach."
Another characteristic many of this year's winners share is an ability to home in on each student's unique goals and strengths and do what is necessary to help them along their particular journey.
"My approach to mentoring is to try to discern from all my students what the core of their interests is and crystallize that to help them become their own scholar," says awardee Sheila Jasanoff, Pforzheimer Professor of Science and Technology Studies. "I want my students to develop those talents for themselves so that they become independent and autonomous thinkers."
2021 Mendelsohn-winner Hannah Marcus, assistant professor of the history of science, strives to provide the right resources for the right students.
"The PhD is a research degree, and research has to be informed and driven by our own deep sense of curiosity, or love of the material, or motivation to solve a problem," says Marcus. "I listen to my students and what they're trying to do and support them in that. There are many reasons to get a PhD, and whether someone wants to be part of the academy or work in industry, I want to support them in the work they do now and in the future."
A Collective Approach to Advising
The Mendelsohn Awards are another example of the universal importance of superior mentorship at GSAS.
"From very early on in my deanship, I really wanted to focus on advising because it's such a cornerstone of graduate student success," says Dench. "This led to the launch of The Advising Project, which is designed to enhance the advising experience of all GSAS students by identifying best practices, sharing resources, and working with faculty and students to make advising effective and productive."
And while the mentoring relationship is surely beneficial to the students, faculty too have much to gain from these often-lifelong relationships.
"It's such a gift to be able to work with these students because they're so brilliant and they're trying to change things for the better," said 2021 awardee Erica Kenney, assistant professor of public health nutrition. "I learn so much from them, and they're a huge inspiration to me."
"This has been a difficult year for many of us," said Marcus. "I've been incredibly inspired by the tenacity of the graduate students I get to work with and their generosity toward each other. They're supporting each other in ways I hadn't imagined, and it's really inspiring to see what the future of academia looks like."
Image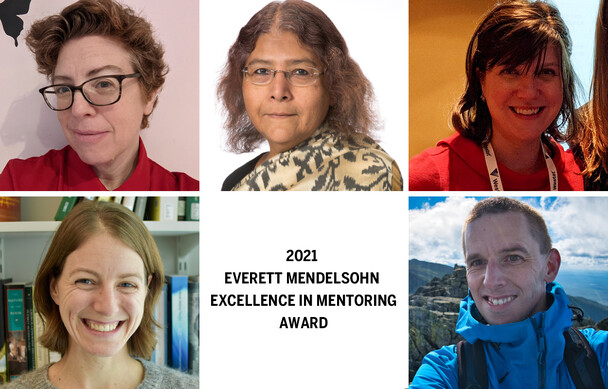 Harvard GSAS Newsletter and Podcast
Get the Latest Updates
Join Our Newsletter
Sign up for Research Matters, a monthly round up of GSAS news
Connect with us