Balancing Act
Blakely Bussie O'Connor manages multiples lives as academic researcher, student leader, and parent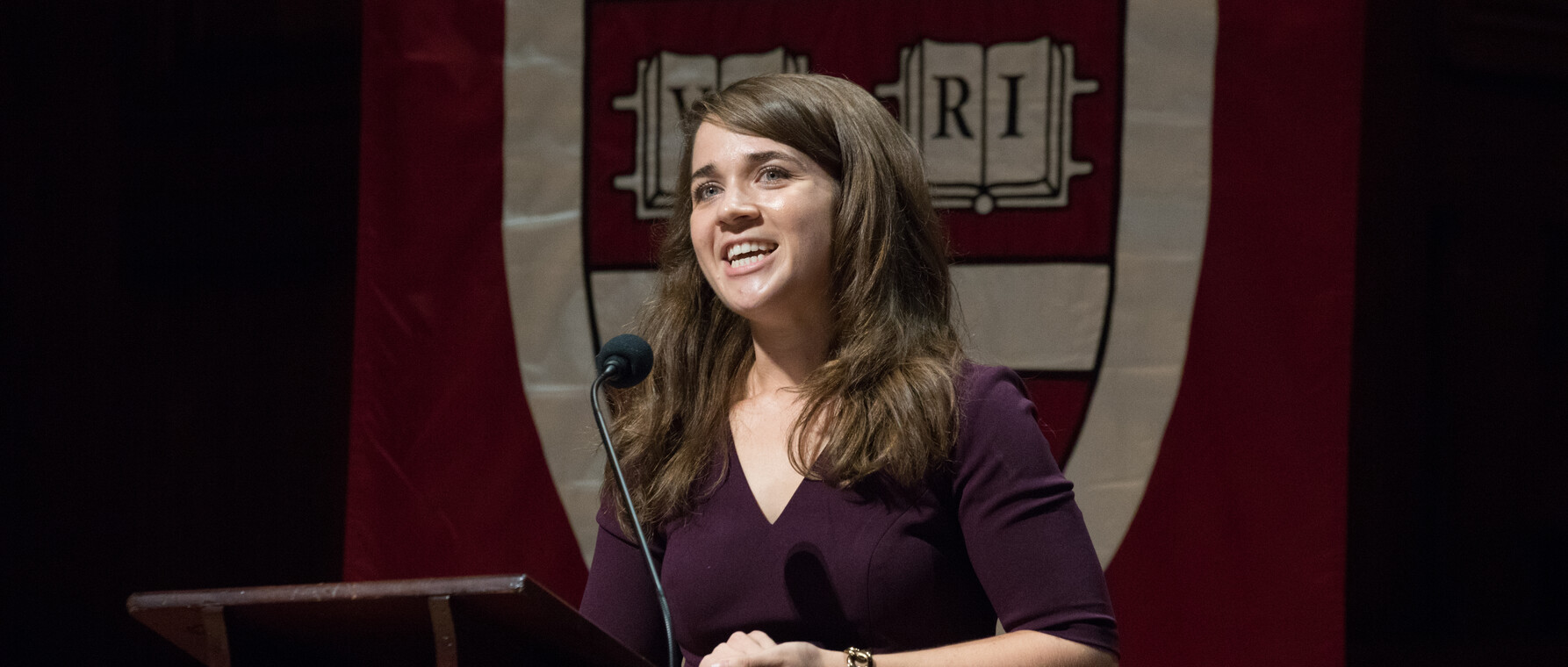 For some students, the pressures of pursuing a PhD would be challenging enough. For Blakely Bussie O'Connor, who will receive a PhD in bioengineering in May 2020, it was only the beginning. During her six years at GSAS, O'Connor became a mother, a student leader, and a yoga instructor. 
"I can't count how many times people would ask, how do you do it all?" laughs O'Connor, who recently defended her dissertation over Zoom. "I don't know that I've ever felt like I was balanced, but I was balancing."
Growing up in rural Alabama, O'Connor commuted 25 minutes to school where her mother taught art. She originally thought that she would become a graphic designer, but math and science hooked her as she advanced toward college. When she received a scholarship to study engineering at Auburn University, O'Connor chose chemical engineering, thinking about her future. 
"I knew that it was one of the most flexible engineering degrees in terms of what I could do with it after completing the program," she says. A practical choice, but one that led her to meet her husband and discover her passion for bioengineering that would bring her to Cambridge for graduate school, where she would also start a family, gain new perspectives, and leave a lasting mark through her student leadership.
Modeling the Body
At Auburn University, O'Connor studied models of the heart and realized the benefits of conducting research through in vitro methods. "Using tissue engineering to build miniature organs helps us to better understand how to make new drugs or how to treat diseases when those parts of the body aren't working correctly," she explains. "Building human-specific models outside the body enables researchers to overcome some of the safety limitations in humans and serves as an alternative to animal models, which often fall short because of genetic differences."
After she was accepted to continue her studies at GSAS, in the bioengineering program at the Harvard John A. Paulson School of Engineering and Applied Sciences (SEAS), O'Connor and her husband took a leap and moved north. O'Connor joined the lab of Kit Parker, the Tarr Family Professor of Bioengineering and Applies Physics, who had expertise in developing "organs-on-chips" to model the heart, muscle, and brain. Building off this experience, O'Connor sought to develop in vitro models to improve women's reproductive health, specifically to further research on drug safety during pregnancy by modeling the placental barrier.
The placenta is the barrier that forms between mother and fetus during pregnancy. It nourishes the fetus by connecting it to the mother's blood supply, secretes hormones to signal that the mother's body should continue the pregnancy, and protects the developing fetus from exposure. Until the 1960s, the placenta was thought of as an impenetrable barrier; when the drug Thalidomide, once prescribed for morning sickness, was found to cause birth defects, drug safety requirements to safeguard pregnant women were developed and research into understanding the placental barrier took off. While much has been learned in the past 50 years, a good deal is still unknown, largely because pregnant women are excluded from clinical trials.
This cautious approach helps protect mother and child from unnecessary exposure, but it can be problematic when the mother needs to take a medication that hasn't been confirmed safe. "In the absence of clinical testing, sometimes a pregnant woman doesn't know whether it's safe to take medications for preexisting conditions," O'Connor states. "When diseases specific to pregnancy arise, it's also hard to develop treatments, because you don't want to put the mother or the developing baby at risk." Improving drug safety and predicting toxicity during pregnancy are important tasks for researchers, though there is a need to mitigate the risks of direct testing in patients.
O'Connor's research tackled this issue by building cellular models of the placental barrier outside of the body. Engineering models by using human cells in a dish, she experimented with biophysical cues to make the cells look and behave as they would in the womb. In the future, O'Connor hopes that these models can illuminate what the placenta allows to pass and what it blocks, which can then inform choices around medication use during pregnancy.
A Higher Good
O'Connor and her husband had their first child during her second year at GSAS, which inspired her to seek out student leadership opportunities. "Having a child in graduate school was hard," she states. "But it was also extremely rewarding and helped me gain perspective on what was important to me in terms of how I spend my time, how my research affects other people, and how to simultaneously pursue a higher good and do good for the people that I am directly responsible for." 
Image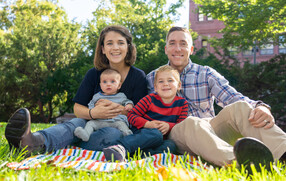 As a first step, O'Connor joined the GSAS Student Council (GSC), the GSAS student government, as the SEAS representative with the goal of advocating for student-parents. "I had a really tough time after my son was born," she explains. "I wanted to see if there was a way to help graduate researchers balance the demands of being a student and parent." She found that advocating for GSAS student-parents was a rewarding compliment to her research. "While I was working on my biological research, which takes a long time, student leadership played an important role in helping me stay motivated. I could make incremental progress through student advocacy while I was waiting for my cells to grow." She rose through the ranks of the GSC to serve as the secretary, president, and GSC advisor. During her five years as a student leader, O'Connor collaborated with the GSAS administration to institute lasting changes for student parents, such as increased parental funding, a subsidized Care.com subscription for PhD students, and a School-wide survey to discern what parents really needed. During her years as a GSC officer, O'Connor sat on numerous committees representing GSAS students and steered the group to write a mission statement, hone their advocacy strategy, and establish two events that cultivate and celebrate at-large and departmental representatives and GSAS student leaders.
In addition to her work on the GSAS Student Council, O'Connor co-led the GSAS Student-Parents Organization. This GSAS Graduate Student Group strives to address policy issues and provide the support and community that O'Connor craved as a new parent. The group has held clothing and toy swaps, holiday photo shoots with the Harvard GSAS Photography Society, and Halloween and music events with the Student Center Fellows. They worked with GSAS administration to create the GSAS Families Brunch, part of the GSAS Welcomes orientation events, where incoming students with spouses, partners, and children can meet current GSAS students with families, learn about resources, and have some family-centered fun. O'Connor also helped the GSAS Office of Student Services and the Office of Work/Life on a project to improve lactation rooms on campus, which received a Presidential Administrative Innovation Fund award.
Resetting Perspective
While she was conducting her academic research and leading various organizations, O'Connor had a second child and dove into another challenge—earning a yoga teaching certificate at the local "be. Yoga" studio in Union Square, Somerville. "Doing yoga was a transformational experience in that it helped me find balance in my body and mind," she says. "The mindfulness I gained from the practice helped me focus on the present and it was an essential part of getting to the finish line and earning my degree."
O'Connor will end her academic studies later this month during the Graduate Recognition Ceremony, GSAS's virtual celebration. In honor of her student leadership contributions, she was selected as one of 10 commencement marshals by the GSC and chosen to speak on the behalf of the group. 
Looking ahead to life after Harvard, O'Connor intends to continue improving women's health and working on balancing all she tackles. She will be greatly missed at GSAS for her hard work, advocacy for students, creative ideas and concrete plans, easy laugh, and wonderful southern drawl.
Photos by Martha Stewart and Deng Pan
Harvard Griffin GSAS Newsletter and Podcast
Get the Latest Updates
Join Our Newsletter
A monthly round up of Harvard Griffin GSAS news
Connect with us