Working for LGBTQ+ Students—with Pride
Group works to create a campus that welcomes LGBTQ+ students—at GSAS and beyond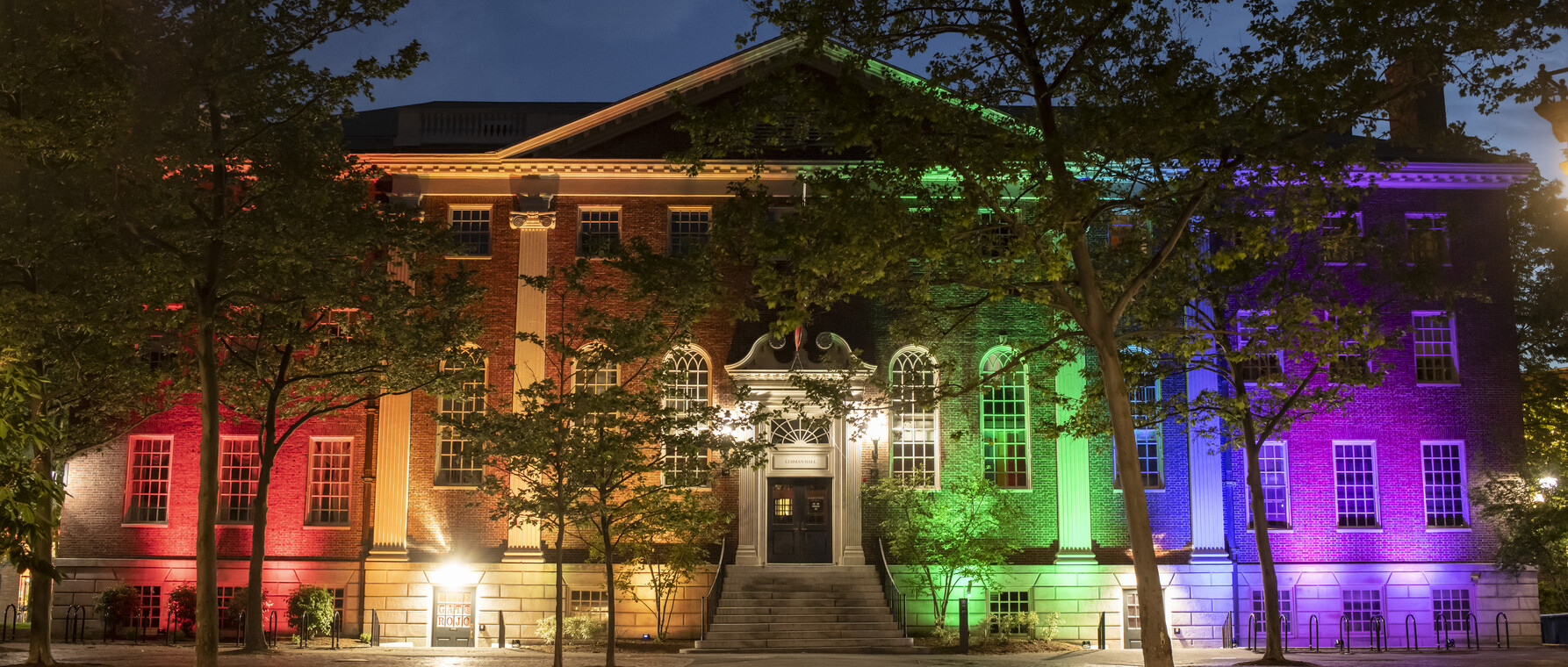 Last year marked the hundredth anniversary of one of the most troubling episodes in Harvard's history. In 1920, an ad hoc court of five Harvard administrators, under the supervision of University President Abbott Lawrence Lowell, formed to investigate students and affiliates for "suspected homosexual activity." About 30 students were investigated. Eight were expelled with notations on their transcripts to inform future employers or institutions of the University's findings. Two affiliates were banned from campus. Several of the group eventually took their own lives.
Image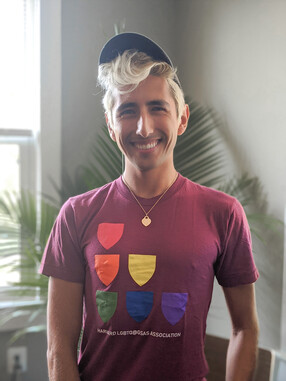 Today, LGBTQ+ students at Harvard are a vibrant and significant part of the University's diverse community, a dramatic change from the previous era of persecution. For Daniel Arias, co-president of the Harvard LGBTQ@GSAS Association, the centennial of the Secret Court was both a call to honor the progress made in transforming the values of the University and a call to action for the work that remains to achieve a Harvard truly inclusive of lesbian, gay, bisexual, transgender, and queer identities.
"I think it clearly underscored that in 100 years, Harvard has changed, but we are nowhere near the University that we want to see," he says. "To get there, we need to ensure that the diversity of sexual orientation and gender identity expression is visible and celebrated at the University and that we are affirming that LGBTQ+ people belong at Harvard—just as they belong everywhere." 
Arias along with fellow co-president Malinda McPherson and the other student leaders of LGBTQ@GSAS work every day to make that vision of belonging a reality. By building community among LGBTQ+ students and allies, advocating for their needs, and raising their visibility, the organization reaches out across the University—especially, to other traditionally underrepresented and marginalized groups—in an effort to make Harvard a place where every student can flourish.
Three Pillars
For LGBTQ@GSAS, the centennial of the Secret Court was a chance to reaffirm their commitment to the work of inclusion. McPherson says that LGBTQ@GSAS focuses on the "three pillars" of community, solidarity, and advocacy, trying to make progress on each front in all that they do. The first part of this work, community-building, means providing a welcoming space that reflects students' diverse identities and acknowledges race, class, and ethnicity as well as gender and sexuality.
Image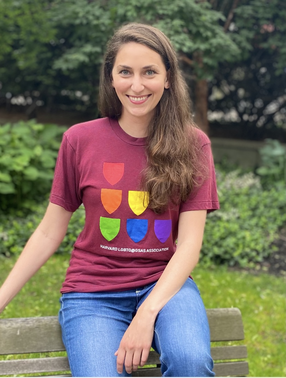 "Our goal is to provide community and solidarity for LGBTQ+ graduate students at GSAS," McPherson explains. "While we actively promote and advocate for their needs, we also want to work with other diversity and inclusion groups at Harvard. It's not an 'either-or.'"
Along those lines, LGBTQ@GSAS has reached out to virtually every affinity group at the School to create intersectional events. The result is a dazzling range of programming—from an event with Janelly Farias, an openly lesbian member of the Mexican women's national soccer team to a conversation about Afrotransfeminisms in Latin America.
"We want to make sure that the formats of our events reflect the diverse identities and interests of our community," Arias says. "So, there are large parties and happy hours, but also more intimate events. And it's not just at GSAS, but across Harvard and the broader Boston LGBTQ+ community, connecting with local groups to be a welcoming environment for allies as well."
LGBTQ@GSAS's concern for intersectional outreach amounts to more than just a series of fun, even enlightening events. "We try to combine community building and advocacy with social solidarity," McPherson says. "For example, we've joined for two years now with the GSAS Latinx Student Association to celebrate the Mexican holiday of Día de Los Muertos with an ofrenda (altar) that includes queer heroes throughout history as a way of remembering and honoring those who've passed and keeping their memory alive."
"Our goal is to provide community and solidarity for LGBTQ+ graduate students at GSAS."  
—Malinda McPherson
In terms of advocacy, some of LGBTQ@GSAS's most important work in recent years has focused on Harvard University Health Services (HUHS). With the group's encouragement and input, HUHS clarified the LGBTQ+ services it provides and which are covered by the student health insurance plan—particularly for gender-transitioning students who need both care and support.
"We did our research and identified what different elements of care we wanted to see in a comprehensive plan," Arias explains. "Then we asked HUHS if they covered or provided them. We were just hoping for information, but they actually did us one better: they created a page on the HUHS site that answers those questions and identifies providers who are on the LGBTQ+ healthcare team and at Counseling and Mental Health Services. That enables students to identify primary care providers and counselors who understand LGBTQ+ health issues. It was a big win, not just for GSAS students, but for everyone who identifies as LGBTQ+ across the University."
Meeting the Challenge of the Pandemic—and the Future
There have been plenty of other wins for LGBTQ@GSAS and the students for whom they advocate. The group secured a commitment from Title IX coordinators at FAS to create gender inclusivity training for staff, faculty, and students. They've worked with the GSAS Student Center, the Office of Diversity and Minority Affairs, and Harvard Common Spaces to organize celebrations of Pride Month in June 2021. And, at the group's urging, the Student Center has also displayed pride flags for Bisexuality Awareness Week, National Coming Out Day, Asexuality Awareness Week, and Transgender Day of Remembrance, among other pride days.
During the past year, however, the coronavirus pandemic has confronted the LGBTQ+ community at GSAS with challenges that go beyond bias, institutional culture, and bureaucracy. Protocols put in place to mitigate the spread of COVID-19—particularly the de-densification of campus—have made it difficult for students to feel connected. In response, the leaders of LGBTQ@GSAS took their outreach to a new level for the 2020–2021 academic year.
"We sent a welcome letter to all incoming students who identified as LGBTQ+ and to all the current students on our email list," says McPherson. "We invited people to sign up for branded t-shirts and no-touch door openers that said 'Pride Opens Doors' and we set up contactless distribution points to get them out. We also sent stickers, shirts, and door openers to students around the world. It was all to give them a tangible connection to the community on campus. We wanted to say 'We see you. We acknowledge you. And we celebrate you.'"
Once the academic year started, LGBTQ@GSAS redoubled its efforts, hosting twice as many events during fall term alone as it had during the previous academic year. McPherson says that this work will continue long after the pandemic has abated. The group's goal, she says, is to create change that becomes part of the University's culture and lasts long after she and her cohorts have graduated.
"We are temporary at this University," she says. "Administrators, staff, and the rules they enact last much longer. So, we want to push for change at that level so that what we're advocating for can be more enduring."
In recent months, LGBTQ@GSAS has published a new resource guide for instructors looking to create a more LGBTQ-inclusive classroom, the product of a collaboration with the Derek Bok Center for Teaching and Learning. The group also supported efforts to organize the first-ever Lavender Graduation for GSAS students—virtual last May and, hopefully, in person thereafter. Arias says that in the months to come, LGBTQ@GSAS will also continue to expand its outreach to other affinity groups, working with them to make GSAS—and Harvard—a place where everyone feels they belong.
"We want to improve Harvard at all levels and in all places," Arias says. "Ultimately, we are trying to build community not just for LGBTQ+ students and not just at the Graduate School of Arts and Sciences, but for people from all identities and backgrounds across the entire University. That's what true intersectional inclusion looks like for us."
Harvard GSAS Newsletter and Podcast
Get the Latest Updates
Join Our Newsletter
Sign up for Research Matters, a monthly round up of GSAS news
Connect with us