The Right Place
Lawrence Bacow's circuitous route to Harvard's presidency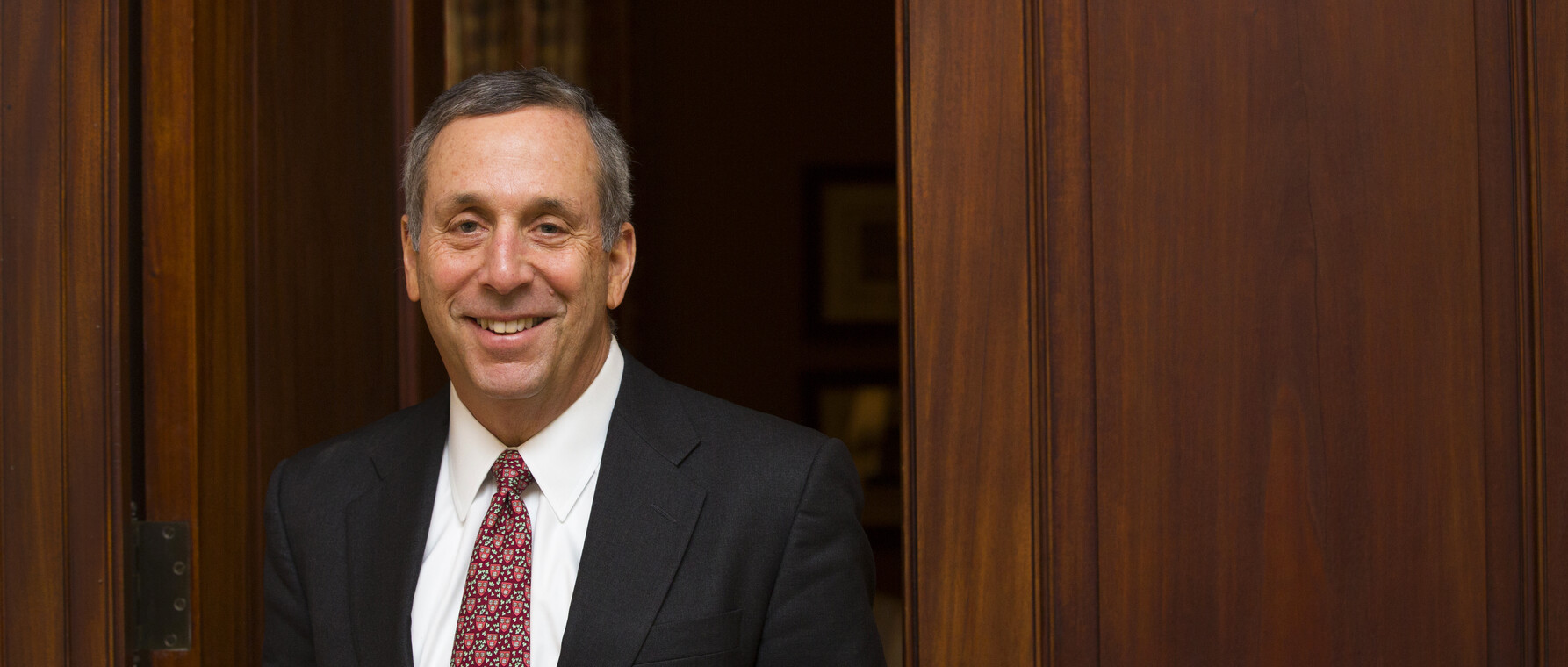 Lawrence Bacow, PhD '78, Grew up interested in ham radios and science fairs, all while expecting to become a lawyer like his father. Now the 29th president of Harvard University, Bacow's circuitous route to Harvard's top post has taken him from mathematics to economics and public policy.
Your academic interests have varied over the years. How did you end up seeking a PhD in public policy?
Most of our careers are a series of fortuitous accidents, and mine is no different. I always tell students: "A career is only knowable in retrospect." I grew up as a math and science kid and thought I wanted to be a lawyer because my father was a lawyer. At MIT, I intended to study mathematics, but quickly discovered the difference between being good at math and being a mathematician—and I was in the former category. Along the way I'd taken an economics course and thought it would be a good way to apply my modest mathematical aptitude. Midway through my junior year, I realized I could graduate early and save a year's worth of tuition, but I had missed the law school application deadline. So, I enrolled in a new public policy program at Harvard Kennedy School (HKS) and later was accepted to the joint degree program between Harvard Law School and HKS. When I graduated, my wife was starting a two-year program in city planning at MIT, so I needed something to do until she graduated. Because I had already taken the relevant coursework, I decided to study for a PhD.
Harvard lifts people's sights and helps them raise their expectations.
So, you were finishing up law school and thought: I'll earn a PhD and see what I can do with it?
Essentially. I was in the right place at the right time. As I was finishing my dissertation, several universities were launching public policy programs modeled after HKS, and I started receiving inquiries about teaching jobs. I was offered a two-year teaching opportunity at MIT, and two years turned into twenty-four.
Your PhD dissertation concerned collective bargaining over occupational hazards. How did you make the transition to the environment?
That's a very easy story. I was always interested in the intersection of law, economics, and policy, which is why I wrote about collective bargaining over health and safety issues. At MIT, I was asked to teach a course on environmental economics and policy, and I realized that what I'd already studied—how to regulate what is noxious and dangerous inside a workplace—was applicable outside the workplace, for example, how to regulate air quality and water quality. Another theme of my work was the bargaining and negotiation process, which I looked at through the lens of collective bargaining in my dissertation. I went on to write about how to resolve disputes that arise when society tries to build things we need but that nobody wants to live near—prisons, airports, hazardous waste facilities, for example. People want access to cheap power, but nobody wants to live next to a power plant. I became interested in how to create siting processes that reallocate some of the benefits of these projects to compensate those who live near them. But many issues can't be resolved that way, and I became interested in the more general problem of how to resolve environmental disputes. Ultimately, through a very circuitous route, that work led to an interest in real estate capital markets. But none of this was planned. It was where my curiosity led me.
You earned three graduate degrees from Harvard. How will that experience shape your vision for graduate studies at the University?
The relationship between graduate students and their teachers is very special because over time they become your colleagues. We do research and publish together and, eventually, we collaborate. As president, I hope to nurture and support those relationships. Harvard changed my life. I did not expect to become an academic when I came to Harvard. But while I was here, I discovered that I love to teach and that I was capable of doing scholarship. Harvard lifts people's sights and helps them raise their expectations. It makes everybody who works and studies here—myself included—better, because we are surrounded by remarkable people. I want to make sure that future students have that opportunity as well.
What are you most looking forward to in this new role?
I'm looking forward to getting to know Harvard in ways that I haven't had a chance to before. This is a remarkable institution with many different facets. Everywhere you look, you can find somebody doing work that's really special.
Photo by Stephanie Mitchell
Harvard GSAS Newsletter and Podcast
Get the Latest Updates
Join Our Newsletter
Sign up for Research Matters, a monthly round up of GSAS news
Connect with us