Notes From a Writer's Desk: Summer Reading Spots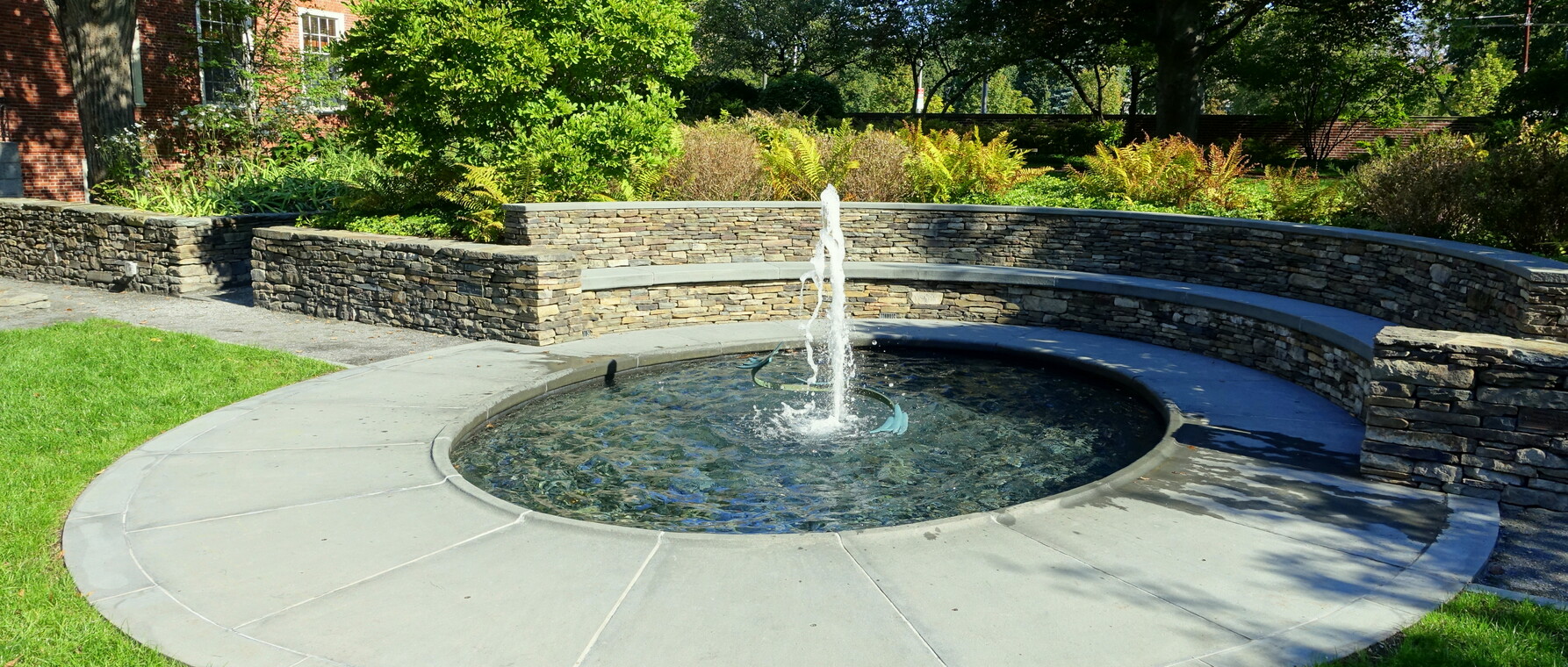 Establishing a research and writing routine entails finding a space, or spaces, where we can work consistently: whether a desk at home, an office on campus, or a carrel deep within one of the libraries. Sometimes, however, a change of environment can reinvigorate our bodies and minds. Summer, with its slower pace, presents a great opportunity to venture away from our tired spaces every now and then and seek a fresh perspective. To help provide inspiration, we are sharing some of our favorite spots to read and write in the Cambridge and Boston areas—from libraries you may not know about to peaceful outdoor settings.
The Sunken Garden in Radcliffe Yard. In an ideal world, I would be just as productive working outside as I am at my desk. Unfortunately, I find the pleasures of nature to be too distracting. I've learned that when I try to work outside, I inevitably lose focus. I do, however, enjoy reading outside, and one of my favorite places to sit and read (or enjoy a delicious snack from Black Sheep Bagel or L.A. Burdick's) is the Sunken Garden at the Radcliffe Yard. Tucked away off the main paths, this little oasis can be easy to miss. This, of course, makes it a peaceful hideaway with little foot traffic. Featuring a fountain, gardens, stone and wooden benches, and plentiful shade, the Sunken Garden is a welcome respite from the hustle and bustle of Harvard Square and the confines of any indoor space.
-Sam
Gutman Library. If you are looking for an escape from the noise and activity of Harvard Square, Gutman Library offers a calm working environment that is worth checking out. The study area on the ground floor has several tables scattered throughout where you can set up with your laptop and books, and large windows fill the room with natural light. During the summer, relatively light traffic coming and going gives the space a great energy that is neither the monastic silence of the bowels of Widener nor the tumult of some local coffee shops. If you get peckish, you can grab a blood sugar boost from the café, which is also on the ground floor. Although the study space is occasionally closed to host special events, the library is a short walk from cafés like Flour—a good or a bad thing, depending on your perspective.
-Rachel
Countway Library. A change of scenery can often inspire new ideas. Freed from place-associated routines, I find it easier to start new writings and concentrate on big projects. The Countway Library seems to offer a near-infinite number of well-lit workspaces. Newly renovated with an interior design award, the Library boasts a different vista between each pair of its columns and distinct backdrops on all four sides: the marble façade and concrete buildings of the Medical School and School of Public Health; Huntington Avenue, with a sporadic Green Line train; a sunken garden off the avenue; and Shattuck Street lined with red brick buildings. In addition to the open-plan work areas encircling it, the first floor has a café, a makerspace, and a pet therapy area! The second floor hosts a quiet working space and reservable study rooms. The Warren Anatomical Museum on the 5th floor (though currently under renovation) may be the coolest Harvard Museum you have yet to visit. The list of amenities goes on. Longwood folks who have not revisited Countway since the pandemic, do not miss out! Cambridge folks who have never visited Countway, what is a better place for a scene change?
-Will
Arnold Arboretum. Moving away from the hustle and bustle of Cambridge and Somerville a couple years ago simultaneously shattered the psychological barrier that is the Charles River and allowed me to foster a greater appreciation for the green spaces of the Emerald Necklace. The Arnold Arboretum is now mere steps from my apartment, and its ready availability has offered me the chance to explore every pathway that snakes through the curated flora. I have scoped out and taken advantage of the myriad spaces to relax, read, or even write while taking in a so-called "forest bath" among the trees, knowingly surrounded by the city but willfully ignoring it. It is a great day outing, easily accessible from the Forest Hills T station. My favorite place to just sit and contemplate is alongside the Bussey Brook as it babbles along beneath the shade of the trees at the base of Hemlock Hill. If you're in the neighborhood, you just might spot me deep in conversation with my dog regarding the virtues of treats. 
-Tony
Hatch Shell, Esplanade. For a unique experience on a lazy summer afternoon, venture across the Longfellow Bridge, with its whimsical salt-and-pepper-shaker towers, to the iconic Hatch Shell, which lies on the Esplanade. The park—stretching along the Charles River—offers artistic quirks and ample space to set up a blanket or folding chair and engage in some reflective reading and/or writing. Make it a full day and stay for a free concert from the Landmarks Orchestra or a free movie screening, both of which are offered on select summer nights. To me, it's the perfect way to unwind and allow the ideas I've been pondering to marinate in my subconscious. The Hatch Shell has been one of the home sites of the Boston Pops and its legendary conductors—including Arthur Fiedler and John Williams—for nearly a century, so the acoustics have been fine-tuned quite a bit over the years.
-Chris
These are just a few of many possible spots within a reasonable distance from campus. We compiled a similar list in the past with several other locations. But we'd love to hear from you as well! Let us know if you have any favorites that we've left off our lists by writing back to us at gsas-fwc@fas.harvard.edu. 
Harvard Griffin GSAS Newsletter and Podcast
Get the Latest Updates
Join Our Newsletter
A monthly round up of Harvard Griffin GSAS news
Connect with us