To Improve the Health of Children
Kellie Ann Jurado, PhD '15, hopes to change the way scientists understand early-life immunity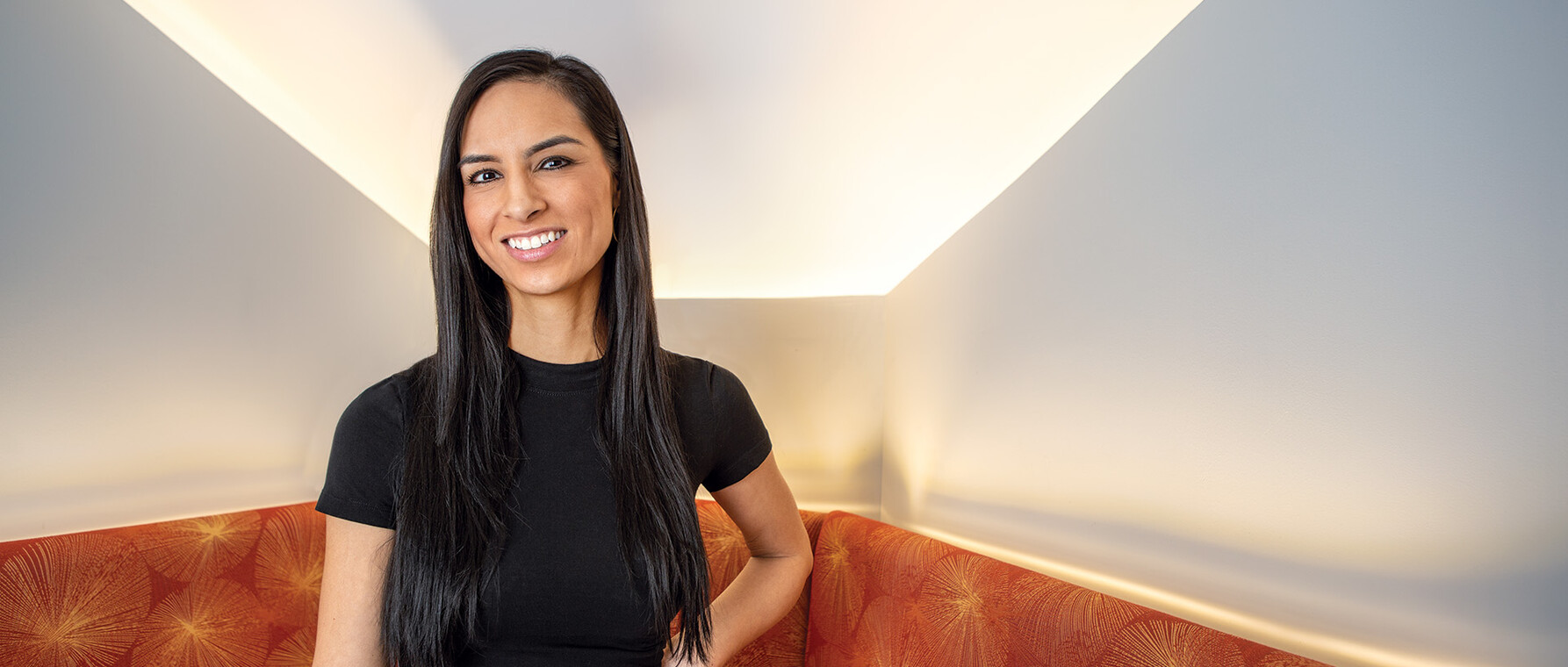 Kellie Ann Jurado, PhD '15, grew up on a New Mexico chili pepper farm that has been in her family for generations. Although her grandfather could neither read nor write, he understood the importance of education. So did Jurado's father, who went to college to study business and faithfully returned to the family farm he still manages today. For his daughters, though, he wanted something different. 
"He really wanted to make sure that my sister and I had the opportunity to choose what we wanted to do for a career," Jurado says. "He constantly encouraged us to pursue what brought us fulfillment. So, in every step of my career, I've followed my interests and passions, because I recognize that it is a privilege to do so." 
The passion that Jurado's father encouraged her to follow led her to some of the world's great research laboratories, the Harvard Kenneth C. Griffin Graduate School of Arts and Sciences, and an area of human biology that has long been understudied: early-life immunity. Today, as Presidential Assistant Professor in Microbiology at the University of Pennsylvania's Perelman School of Medicine, she and the team at Jurado Lab are shedding new light on fundamental immunobiology to discover and identify opportunities to improve the health of children. 
Research: A Love Story
As an undergraduate at New Mexico State University, Jurado intended to study philosophy or psychology. It was through the latter that she first encountered the scientific method.
"I was in one of my intro to psychology courses," she remembers. "You could get extra credit by participating in a research experiment. I did and I was like, 'Wow! This professor had an observation, and she's using me to see if it's right or wrong.' I asked if I could volunteer in her lab, just to try to get some exposure to this work, and I fell in love with research."
Jurado's professor, Laura Thompson, with whom she worked throughout her entire undergraduate career, taught her how to form hypotheses, test them, and analyze data. Still, she hungered for results that were more precise and biologically focused. Jurado connected with a professor of anthropology at New Mexico State, Wenda Trevathan, who helped her secure a summer research experience studying reproductive endocrinology in the primatology lab of the Max Planck Institute in Leipzig, Germany.
"I pitched a naïve hypothesis to Professor Trevathan and she did not laugh but pointed me in the direction of readings and opportunity. That act of inclusion instead of laughing at my 'silly ideas' helped me get my foot in the door. I thought that maybe there was a place for me in science," she says.
That summer study in endocrinology led to a course in virology—and to Jurado's true calling. "I found something of interest in any academic paper as long as it had to do with viruses," she says. "I thought, 'I have to follow this path.'"
Follow it Jurado did, not only to more lab work and research—including some time at the National Institutes of Health—but also to spectacular academic success as class valedictorian at New Mexico State. In 2011, she was admitted to Harvard's PhD program in medical sciences to study virology under Professor Alan Engelman.
Image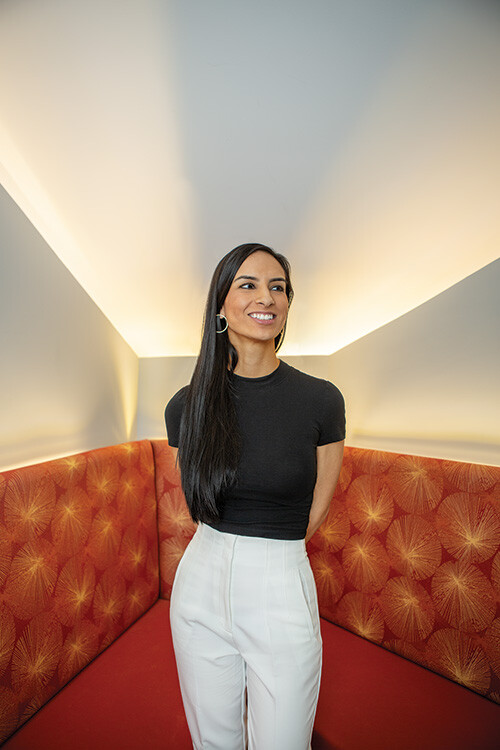 Jurado wrote her dissertation on how the viral protein integrase mediates replication of the human immunodeficiency virus (HIV), studying allosteric integrase inhibitors (ALLINIs)—drugs designed to interfere with the virus's ability to reproduce itself. Engelman says that scientists previously thought that ALLINIs worked by preventing integrase from interacting with a part of human chromosomes called LEDGF. But Jurado's research told a different story.
"Kellie discovered that ALLINIs more potently inhibited the late stage of HIV replication, well after integration has occurred," Engelman says. "The drugs disrupt HIV's ability to enclose the viral ribonucleoprotein complex into the capsid core, which protects the genetic material and helps the virus maintain its integrity and ability to infect other cells. This exposes the essential 'heart' of the replication machine to cellular destruction during the ensuing round of HIV infection. ALLINIs remain the subject of intensive investigations in both academia and the pharmaceutical industry."
While it takes most PhD students in the sciences at least five years to earn their degree from Harvard, Jurado did it in four, winning the International Uta Von Schwedler Prize for Outstanding Thesis from the University of Utah and Cold Spring Harbor Laboratory. After graduation, she joined the lab of Professor Akiko Iwasaki at Yale University School of Medicine. There, she won several major grants and fellowships and began using emerging viruses to understand early-life immunity—the foundation of the work she does today. In 2019, Jurado's outstanding work earned her a position at the University of Pennsylvania (UPenn) and a lab of her own.
Charting the Dance of Virus and Host
"Viruses are engaged in a tightly intertwined evolutionary dance with their hosts, which they need to exist," Jurado says. "By studying their interactions, we can gain new insights into both."
Jurado's lab at UPenn focuses specifically on how the immune system responds and develops in early life, and how the body mounts resistance to viral infections during pregnancy as well as the long-term impacts of infection and inflammation on the developing fetus.
Using immune disruptors like the Zika virus in animal models, Jurado's team studies early pregnancy responses and outcomes on the molecular level.
Viruses are engaged in a tightly intertwined evolutionary dance with their hosts, which they need to exist. By studying their interactions, we can gain new insights into both.
—Kellie Ann Jurado
One of Jurado Lab's many projects involves understanding the role that the cytokine IL-27 plays in fetal immunity. Cytokines are proteins that allow cells to communicate with each other and coordinate immune responses. IL-27 in particular helps fight pathogens through the regulation of T-cells and the suppression of inflammatory response. To understand the importance of IL-27 to immune response during pregnancy, Jurado's team introduced the Zika virus into two groups of gestating mice—one in which the cytokine had been suppressed and one in which it hadn't. The results were dramatic. 
"We saw that when IL-27 signaling was disrupted, there was a huge increase in pathology," Jurado says. "That strongly indicates that IL-27 is protective against congenital infection. Now we want to try to mechanistically understand exactly how it's protective."
Scientists are increasingly finding that early immune exposures can influence lifelong health. Jurado says understanding the mechanisms associated with fetal immune system responses and development may hold the key to stopping disease even before it starts.
"We are learning immunity is greatly influenced by events during pregnancy," she says. "Our idea is that if we could learn how to strengthen neonatal immunity, it might allow us to better fight infections later in life. Alternatively, we might learn a trigger that sensitizes the development of diseases like autoimmunity and figure out a way to prevent exposure to that trigger."
As someone who thrives in community, Jurado has assembled a tight-knit and diverse team of researchers whom she credits for her lab's success. Science is often thought of as a solo effort; however, Jurado maintains that it requires constant communication, not only with colleagues throughout the field but also locally at the group level. She notes that she's garnered invaluable insights by working with lab members who have different backgrounds, experiences, and expertise.
"I am so proud of the incredible research team I have built," she says. "We live our core values of inclusivity and integrity while conducting rigorous research. We have a wide breadth of projects that are all distinct but connected. We leverage our diverse ideas and experiences to grow together. We lift one another up with intention and move forward with purpose as a team."
Great Promise
Michaela Gack, scientific director at the Cleveland Clinic Florida Research & Innovation Center, served on Jurado's PhD advisory committee at Harvard Griffin GSAS. She says that her former advisee's research on early-life immunity has the potential to be even more impressive—and impactful—than her doctoral work on HIV.
"Kellie's current work as an independent investigator provides fundamental new insight into how immune responses are shaped early during life, during pregnancy, and as a newborn," Gack says. "These early immune exposures are thought to influence an individual's health later in life; therefore, deciphering early-life immunity at a molecular level holds great promise for the development of next-generation therapeutic approaches."
Deciphering early-life immunity at a molecular level holds great promise for the development of next-generation therapeutic approaches.
—Michaela Gack, Scientific Director, Cleveland Clinic Florida Research & Innovation Center
Echoing Gack's hope, Jurado believes that her work will lead to new interventions that treat or prevent disease. First, though, she and her team must expand their understanding of the mechanisms through which early-life immunity operates. Whereas other organ systems—the human gut, for instance—have advanced models to use for experimentation and analysis, researchers of the immune system during pregnancy are still developing theirs. But Jurado says the fluidity of this moment in science is precisely what makes her so excited—and hopeful—about the eventual impact of her work.
"It is a very momentous time in this field," she says. There's a long way to go, but the ultimate objective of our efforts is to describe fundamental immunobiology to discover and identify opportunities to make children healthier."
Harvard Griffin GSAS Newsletter and Podcast
Get the Latest Updates
Join Our Newsletter
A monthly round up of Harvard Griffin GSAS news
Connect with us