John Dower: 2023 Centennial Medal Citation
Image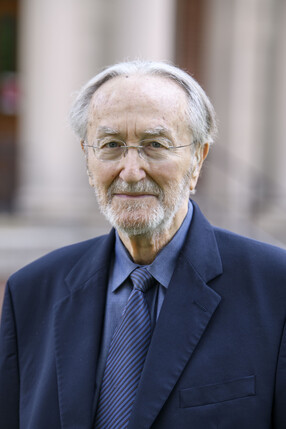 A towering figure in the field of Japanese history, John Dower has shaped our understanding of Japan's emergence after World War II and the importance of considering visual culture and everyday life in the practice of history. His scholarship set the standard for a generation of work on the history of modern Japan. 
Dower first visited Japan in 1958 as an Amherst College undergraduate interested in Japanese literature and visual culture; at Harvard, he earned a master's in the Regional Studies–East Asia program in 1961 and his PhD in East Asian history in 1972. Following appointments at the University of Wisconsin at Madison and the University of California at San Diego, he served for two decades on the MIT faculty, where he is Ford International Professor of History, Emeritus. 
From his earliest work, Dower was a leader in reckoning with the ethical and political dimensions of scholarship. As a graduate student, he helped mobilize the Committee of Concerned Asian Scholars, which opposed the Vietnam War and criticized leading academics for supporting American foreign policy. Shortly after completing his PhD, Dower edited the selected writings of E. H. Norman, a historian of modern Japan who had been persecuted during the McCarthy era. Dower wrote a substantial introduction to Norman's writings, calling for more ethically engaged scholarship attentive to social history and the lives of everyday people. This introduction had a seismic effect on the field, defining a new course of study for those who followed him. "My friends and I all devoured Dower's introduction," recalls David Howell, Robert K. and Dale J. Weary Professor of Japanese History. "It made John something of a folk hero among younger scholars."
Dower's core body of work examines U.S.–Japan relations and the emergence of the modern Japanese state, with a particular focus on war and its aftermath—and on telling stories that are compelling and accessible to broad audiences. His 1986 book War Without Mercy: Race and Power in the Pacific War, a comparative analysis of racism, propaganda, and indoctrination, won the National Book Critics Circle Award. In 1999, his masterpiece Embracing Defeat: Japan in the Wake of World War II, which explores the dynamics of starting over in a nation shattered by war, won the Pulitzer Prize, the National Book Award, the Bancroft Prize, and the Fairbank Prize, among other honors in the United States and Japan. 
"War Without Mercy and Embracing Defeat are the most trenchant, rigorous, and critically engaging pair of books on the Second World War in the field," says Ian Miller, professor of history and faculty dean of Cabot House. "John is rigorous and also readable, and that sets him apart fundamentally. There are others in our field who have written with similar power, but not with such power to such broad audiences. He writes beautifully, and it's not just the prose: it's the organization of thought that is elegant, and so elegant as to almost disappear. He ushers you into new ways of thinking about the world."
Throughout his career, Dower has paid keen attention to visual arts and culture. He has published books on Japanese design, murals, and photography—the first while he was still a graduate student. He produced a documentary film, Hellfire—A Journey from Hiroshima, nominated for an Academy Award in 1988. And at MIT in 2002, he launched "Visualizing Cultures," an online repository of visual materials for the study of East Asian history, a pioneering early foray into online education still in active use today. In 2015, the project grew into a collaborative MITx/HarvardX massively open online course titled "Visualizing Japan," which was a finalist for the prestigious Japan Prize in Education Media.
"John's mantra was that the images need to drive the story," says Andrew Gordon, Lee and Juliet Folger Fund Professor of History, who joined Dower and other colleagues to develop and co-teach the course "Visualizing Japan." "You don't write your history and then find an image or two that illustrates it. You start with the visual material, you figure out what's going on there and what it's saying, and then you let that drive your approach to the history. He's had a major influence on how people approach visual material in the writing and teaching of history."
Miller affirms Dower's lasting influence. "What really sets John apart is the consistency and quality of his interventions," Miller explains. "In most careers, a single field-changing intervention is a major accomplishment. What John has done, again and again, beginning with his time as a graduate student here at Harvard, is to change how the world thinks about the past and about Japan, the world's first non-Western imperial power and non-Western industrializer, this crucial, third-largest economy on the planet. We see Japan, and thus East Asia and the Pacific world, differently because of his work."
John Dower, for your peerless scholarship on the history of modern Japan, which speaks to specialists and to broad audiences alike, and for opening pathways for so many to understand and appreciate the power of images to illuminate history, we are proud to award you the 2023 Centennial Medal.
Harvard GSAS Newsletter and Podcast
Get the Latest Updates
Join Our Newsletter
Sign up for Research Matters, a monthly round up of GSAS news
Connect with us