Imagining Migration
How studying European art history helped Kristie La understand her heritage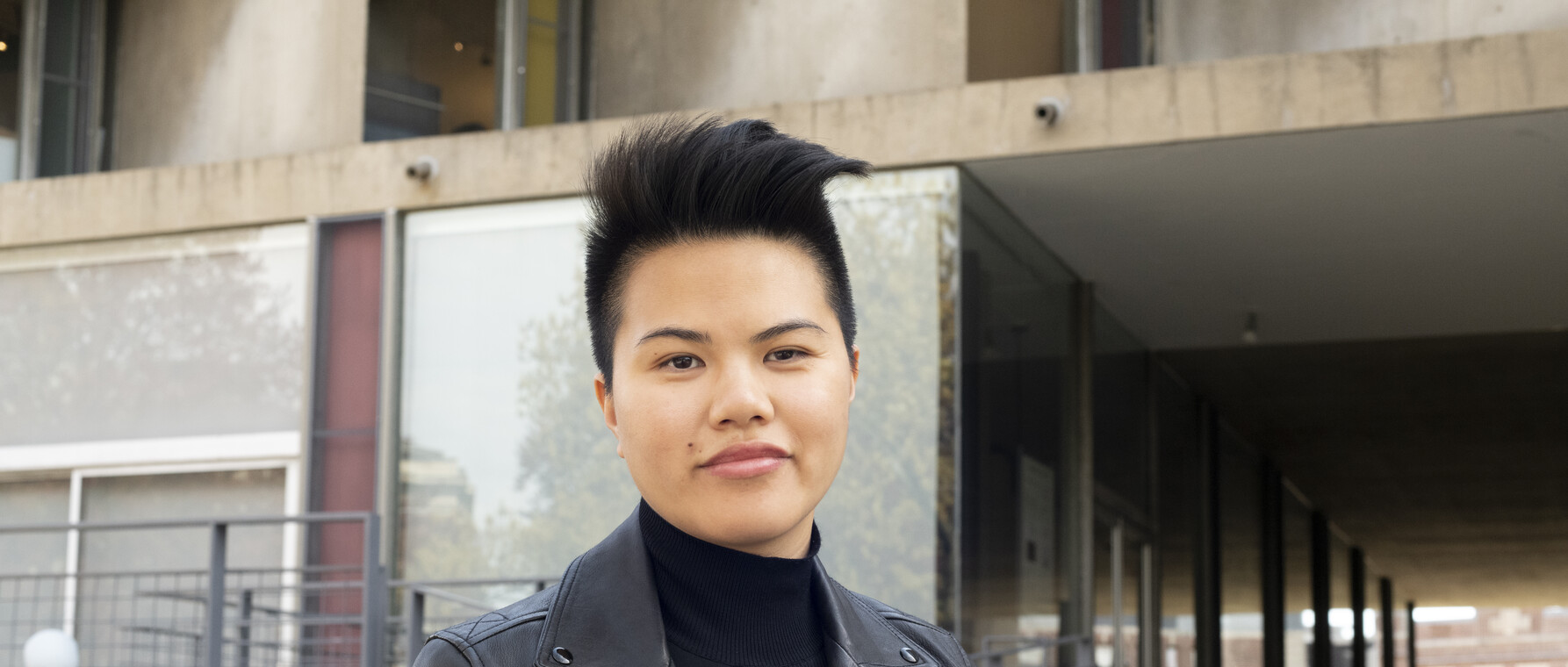 Mere months after the December 1941 bombing of Pearl Harbor, an unusual exhibition opened at the Museum of Modern Art in New York. Floor-to-ceiling photographs of the nation at war dominated the space, guiding visitors down the Road to Victory. "War—they asked for it—now, by the living God, they'll get it" read the text next to a photograph covering a full wall that showed explosions at Pearl Harbor, with jets of flame and roiling smoke. At the time, these images were meant to be inspirational. But Kristie La, whose senior thesis on the exhibition inspired her to pursue a PhD at Harvard in the history of art and architecture, sees the images differently.
"They are very jingoistic," she says. "Americans had never really seen this sort of monumental immersive photo propaganda—but their allies and enemies had." With origins in the Russian avant-garde, this kind of large-scale photography and photo montage had been deployed not only by the Soviets but also by Italian Fascists and German National Socialists (Nazis). Indeed, one of the men responsible for the MoMA exhibition had himself worked for the Nazis before being branded a "degenerate artist" and fleeing to the United States in 1938.
La's thesis won her a Hoopes Prize at Harvard College, and after winning a Fulbright fellowship that enabled her to conduct research in Germany, she has continued to study Russian and German modernist art between the two World Wars. Over the past few years, she has expanded her scope, examining how her graduate work intersects with family history—her parents had fled war-torn Vietnam during the 1970s. She will have opportunities to deepen her research as a 2019 recipient of the Paul and Daisy Soros Fellowship for New Americans.
This prestigious fellowship, which supports graduate study for immigrants and their children, has brought La's art historical research and her family history closer together, connecting two refugee crises: 1930s Europe and 1970s Vietnam. As the first art historian to receive a Soros fellowship, La has also triangulated these two historical moments with a third: today's mass refugee movements. "In our image-driven culture," she points out, "it is especially important to consider the politics of images and photography, particularly around immigration."
A Tale of Two Worlds
La's interest in the intersection of art and politics goes back to a seminar she took in her sophomore year at Harvard College titled "Berlin & Moscow, 1918/1933," taught by Benjamin Buchloh and Maria Gough, who is now her PhD advisor. But in some ways the story starts much earlier, in 1978, when her parents fled Vietnam. They met at a refugee camp off the coast of mainland Malaysia and kept in touch after La's father settled in Toronto and her mother—still a minor—was placed with an adoptive family in Iowa. Eventually the couple moved to California, where La was born and grew up balancing her parents' expectations with the desire of many American teenagers: to be independent. Art history seemed to offer her something uniquely hers. Little did she know that it would lead right back to her family roots.
"I wanted so badly to be my own person," La confesses about her undergraduate years. Yet the time she spent in Berlin as a Fulbright scholar compelled her to rethink what that really meant. Preparing part of her senior thesis for publication, she found that the experience of living in Berlin had given her a new understanding of the project, one that contrasted her temporary "immigration" to Germany with her parents' experience. "Being immersed in a different culture gave me a small sense of the challenges my parents had encountered," she says.
Once La decided to work on a period of major refugee crisis, she asked herself why she chose a topic that included individuals who had to make impossible choices regarding whether to leave or stay in their home countries, and how to survive. She realized that, in a way, she was studying an earlier version of what her parents had gone through. The recognition was unexpectedly liberating. "Working on this material," she reflects, "has given me greater empathy and compassion for my parents' situation."
Blazing Trails
La's academic trajectory and process of self-discovery may seem deceptively linear. In fact, it took time to decide what she wanted to do, and her progress had never been straightforward. After her Fulbright year, La considered a career in law and worked for three years as a legal assistant for a small California firm. While she enjoyed the experience, and particularly enjoyed the "detective work" of research, it made clear that academic research was her true intellectual home. "Law is all about persuasion and argument, but I'm interested in the complexity of the details and excavating all of it," she explains. "In academic research, you don't start with the answer."
This idea perhaps best captures La's philosophy: She is blazing new trails in many ways, yet she seems to move forward in the spirit of exploration and discovery. She followed her curiosity, intellectual interests, and sense of responsibility by turns and at each step, she found the many facets of her life coming together. This, she says, is the message she would share to younger students. "Many young people, and particularly children of immigrants, believe they have two options: Live up to the hopes and dreams of your self-sacrificing parents or rebel," she says. "but it's not an either/or. You can be your own person, but you will also always carry your family's story with you."
Photos by Molly Akin
Harvard Griffin GSAS Newsletter and Podcast
Get the Latest Updates
Join Our Newsletter
A monthly round up of Harvard Griffin GSAS news
Connect with us