Considering Capitalism in a World on Fire
Harvard Griffin GSAS Voices: Rebecca Henderson, PhD '98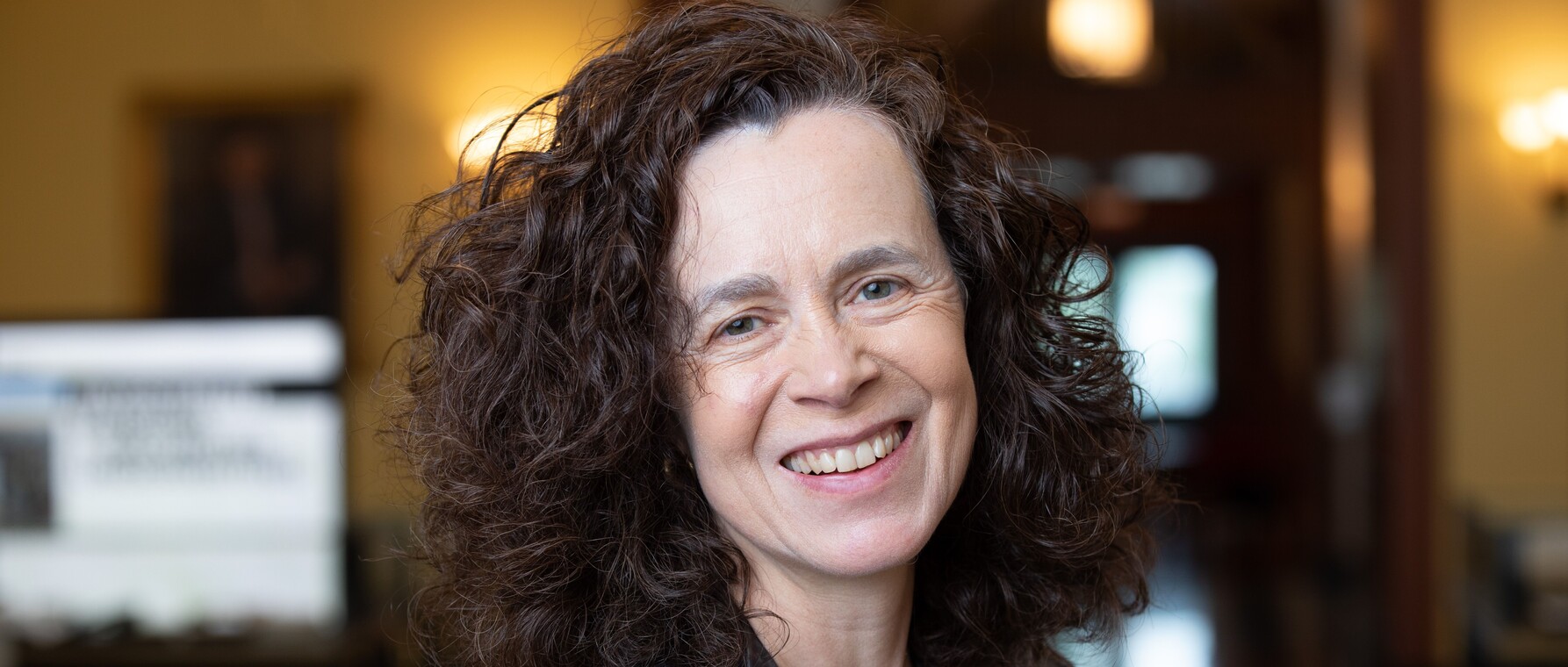 Rebecca Henderson is the John and Natty McArthur University Professor, one of only 26 University Professors at Harvard. She teaches at the Harvard Business School, where she studies the role that corporations can play in creating sustainable economies. She discusses her focus on corporate innovation and her pivot to climate change, the motivations behind her research, and how small groups of individuals can sometimes drive big changes. 
For a Thriving, Sustainable Society 
For the first 20 years of my career, I focused on the question of innovation, both in countries and in companies. Within countries, I looked at what makes economies more innovative and creative, researching the impact of publicly-funded research and development on innovation and entrepreneurship. In the case of companies, I focused on how large companies could respond effectively to challenges from entrepreneurial firms and/or new ways of doing things; think, for example, of the car industry and the challenge large companies have as they seek to transition to electric vehicles.  
I liked working with firms and learning more about what made organizations flexible and resilient in the face of change. This came in handy 15 years ago, when my brother sent me some of the research on climate change, and I shifted my focus to the challenge of decarbonization. Together with colleagues, I introduced the sustainability-orientated course at the MIT Sloan School of Management, where I was teaching at the time. Since then, my research has focused largely on the question of how companies can respond effectively to climate change and on whether a "purpose-driven" private sector could play an important role in building a just and sustainable capitalism. 
My work suggests that when organizations have an authentic purpose, when they understand that profit is a means to an end but should not be an end in itself, something interesting happens: employee engagement increases significantly and, with it, productivity and creativity. Moreover, firms become increasingly willing to focus on opportunities that can contribute directly to building a thriving and sustainable society. Companies must of course be profitable; otherwise, they're not going to survive. But that doesn't mean they can't make a fundamental contribution to solving the huge challenges we face.  
In April 2020, I released a book called Reimagining Capitalism in a World on Fire, summarizing some of this research. Given the timing—this was in the early months of the pandemic—I thought it might disappear without a trace; instead, I ended up talking about it to thousands of people all over the world. The book has been translated into seven languages, and it's been deeply inspiring to see so many people find it useful.  
The Pebble and the Avalanche 
My obsession with change dates from my first real job, working in London for the global management consulting firm McKinsey & Company. At the time, we were working largely on the closure of industrial plants in northern England because many British firms were not responding well to overseas—particularly Japanese—competition. I was interested in why firms that had massive and well-known brand names—that had such dominance in the market—were finding it so difficult to do what was seemingly so clearly required to be done. This is a theme that I've explored throughout my career. One company I worked with was Nokia, which at the time was making a million cell phones a week. I tried to persuade them that Apple was a significant threat. Clearly, I wasn't very successful—the business is now owned by Microsoft, and I believe the brand now has only about a 10 percent share of the US market.  
I am fascinated by the question of why we, as humans, have trouble understanding the need to change. It's a question that is fundamental to my work on climate. Most people under 30 look at climate change and go, "Oh my God, planetary emergency, why aren't we doing anything? Why aren't we mobilizing the entire economy and shifting everything we have?" And yes, that is what we need to be doing, and it's crazy that it's not happening now. We need an avalanche of change if we're going to shift things—and that means all of us doing as much as we can, together. You never know which pebble is going to drive the avalanche.  
People sometimes ask me why I do what I do. For me it's been easy: I've had the good fortune to have an amazing career, and I feel unbelievably privileged to be able to work on these problems. The good news is that this moment could be one of profound positive change—we could use the challenges we face to build thriving societies embedded in a flourishing planet. The even better news is that working on these challenges can be a source of profound joy—and, of course, of great jobs and reasonable profits.  
Harvard Griffin GSAS Newsletter and Podcast
Get the Latest Updates
Join Our Newsletter
A monthly round up of Harvard Griffin GSAS news
Connect with us